I don't believe I ever had a build thread here, and since FJCCentral went under due to very strange happenings lol
I've been only trolling here for the most part.
To add to this list, painted front bumper flat black and wheels to match. Painted gas can and highlift too since they turned pink over the years of oxidization. So here is most of my crap updated
I've built this rig strictly for wheeling, no frills, no electronic/stereo/engine modifications. She's a goat, low COG (center of gravity) high clearance due to tire size, and just tough. My storage system is ghetto (haven't found time to make nice drawers) lots of bailing wire is used lol...I just don't give a crap. It works and I keep it simplistic
Here is Betsy in all her glory, will add some updated high quality pics soon
Suspension system
Walker Evan 2.0 coilovers 3" adjustable shocks with reservoirs
Walker Evan 2.0 rear shocks with reservoirs
2007fj's (red eye fabrication) custom sway bar quick disconnect
showing it disconnected
Beard quad limit straps
Allpro items
Front skid
trasmission skid
transfer case skid
Front bumper
Lower rear ultimate links
Upper control arms
Additional armor protection
Boztec rear differential skid
Rock rails
Demello welded onto frame
Custom work
Custom rear lower link skid 3/16" box out
Custom body mount chop
Steer horns attached to front AP bumper
SKulls on roof rack
Arizona pin stripping
Scuba driver ported through rear jack area
DOt it LED GHETTO rock lights
Found an old Garfield stuffed toy at the landfill attached to bumper
Custom skull shifter
Cargo net/papertowel/shackles/sunscreen/camp soap etc
Traction devices
Rear diff atrac hack (Alex hack) runs both at the same time by splicing one wire
Tires
1 st - 285'sBFG AT's
2nd - 305'sCooper STT discos (1 year went bald)
3rd-TreadWright.com retread GuardDawg tires (3 years they lasted)
315/75/16
4th- Goodyear Duratrac 315/75/16 from Discount tires (best tires yet)
Wheels
Wheelers offroad rockcrawler black 16" steelies
Muffler system
Custom high tuck exhaust from Exhaust workz in Tucson
Flowmaster can
Lights
KC 8"
Cb
Midland 75822 attached to dash by industrial velcro from home store
Magnet mount antennae from radio shack (no longer available)
Thank you Mikey for the pic from FJsummit 13
Interior mods
08 sun visors
Stock subwoofer w/ subwoofer hack (doesn't work past 50 on the fJammer lol)
UltraGauge (scan device)
LED lights (thanks Homedaddio)
Exterior mods
Rear spare gas can mount
stickers galore
Baja roof rack (1st prototype)
Stock Rear bumper removed silver plastic wings
custom denting
tow hitch toucher
Outrider rear shock armor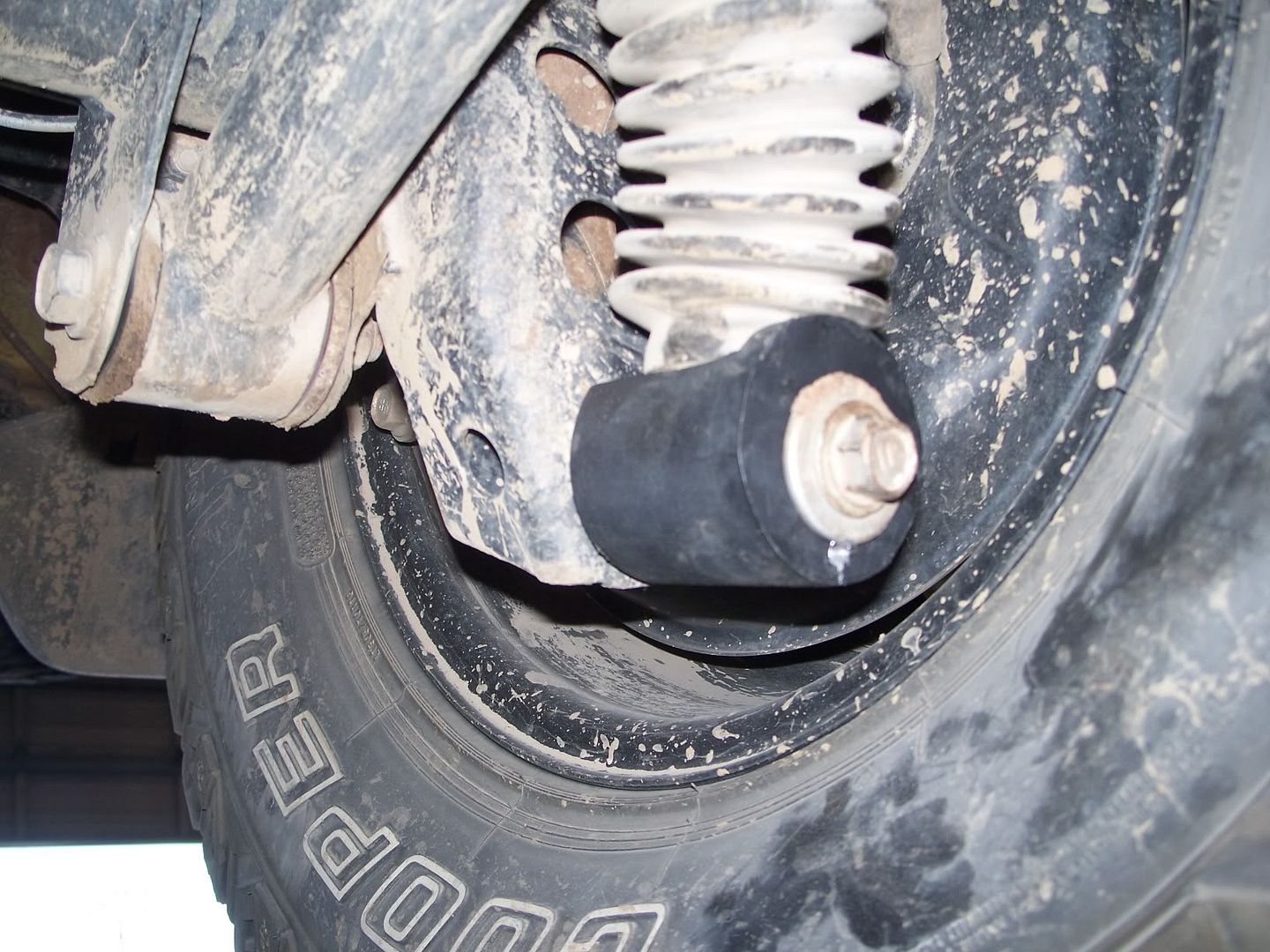 Metal Tech Tube Doors
Customized full doors with Lexan panels
Offroad Concepts raingler roof rack grabs
Rear stickers (latest view 7/22/13..thank you Eisbear for the wonderful pic)
Trasharoo 2013 summit addition (finally) most likely will lose the gas can and just sport the Trasharoodinski
Drivetrain modifications
4.88 Superior gears
Recovery gear
Hilift jack
Regular jack
platform
shackles
screw gun
sawzall
ext. cord
dremel tool
ARB bushwacker exhaust jack
fluids
bailing wire (use with screw gun you can make cables)
Zip ties
Hose clamps (every size)
Locking nylon threaded nuts
bolts
rear stock shocks
Spare CV axle
sway bar links
misc. parts (rescue tape, duct, silver, electrical, rescue tape (seals hoses))
grease gun
Tool bag (everything hammers prys ect...)
180 piece socket ratchet set
Breaker bar with 2 - 1 1/2' cheater bars
60' maybe 80' of tow strap
14 ton come-a-long
First aid gear (extensive)
Cold weather gear
Hot weather gear
Water
Dehydrated food
Spare CV
35mm socket for CV
Toyota red radiator fluid x2
ATF fluid
JB kwik weld
WISHLIST
Ham radio
Winch
SAS
This vehicle has been through hell (hell's gate) and back, but she's still going. A few regular parts needed replacement, worse thing has been the diff breaking, but that was a blessing in disguise. All in all, love the rig hope to keep it as long as possible.
First year of Moab Mayhem trail teams spotting
Reclaim of my lame
Fun in a tub
Some old school pics
Jakes hill Chiva Falls Three feathers back when it was less scary, still do it to this day even at night
Chimney rock before we knew it was off the trail first month I got it
Out with the Ih8mud guys , my brother in laws tan 60 series which I should have brought from him argg
Cinder Hills back in 06 rescuing a jeep who refused help and the atv guys heckled the hell out of him lol
Went to Ouray July 2006 before any fj's called it the summit area, so young here, crazy to think how long we've been doing this
These guys had never seen an FJ before and asked for us to tag along, I think they thought they would take vid and laugh at us. We actually did better than they did, they were fully locked and nice rigs. They were super stoked by the end and said they would pass the word that a stock fj isn't crap hahahah. This is going up engineer, it was so much more rough back then. They graded it in 07
We thought for sure we were one of the first to do the trails around Ouray..then this happened lol
Sutherland V notch all by ourselves
This is when the silver pieces started falling off
A little later vid with Wes and Tibaal
Charlouloe Gap unsurvivable first FJC to do whole trail, we were stock besides larger tires, 16" steelies, rear diff hack, and a body mount chop... all by ourselves in our dumb days
These guys couldn't believe we made it to the carwash and called our rig an econo 4 x lol
07 Moab Mayhem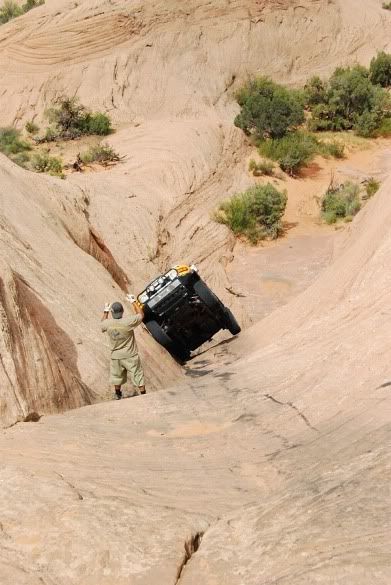 Found my first set of horns
So yeah, lots of fun, great memories, and the best people we've ever met in our travels. Thanks to all that have made an impression on us, can't thank Toyota enough for making these rigs, and bringing us all together by some stupid 4x4 lust