So I started another metal project that will indirectly increase my ability to do other projects. I needed to offload some bulky items out of my work spaces so that I can work on cars better. I need my quads and mountain bikes in a storage spot that doesn't get in the way of getting in and out of the car bays, and I need storage for outdoor party supplies so that I can support my barbecue habit without worrying that the tables and chairs will be oily when it's time to party.
With that stuff in a separate storage shed, there will finally be room for a garage refrigerator too, so this is important!
I considered getting an empty shipping container. However, the price is silly here in Phoenix, compared to what they're worth. Nationally, we import far more than we export so these things are piled high on the docks. Seriously, they should be giving them away for anyone who would be willing to pay for a truck to grab one, but the willing public has allowed the cost to creep up. The going rate here in Phoenix is about 2350 plus some delivery cost for a 20' container and it's not much more for a 40' or less for a 10'. You can also rent them, and if so, the owner company is responsible for any upkeep, but you can't modify them.
The good thing about a shipping container is you put it down and you're done. You have a shed. They're perfectly good sitting flat on the ground without a slab.
The bad thing is that you need room for the truck to back in and dump the thing. This requires more than double the length of the container, and you really can't be asking the driver to do anything crazy. My corner of dirt behind the garage isn't great for this. I'd have to reconfigure everything and I'd still end up with an arrangement that was less than ideal.
I decided that a shipping container was more money than I wanted to spend, more hassle than it was worth, and more shed than I wanted anyhow.
But I liked that it wouldn't have needed a slab, and that got me thinking...
Why not build my own container that was equally capable of sitting flat on the ground? I don't need it to be so strong that I can stack other sheds on top. I just need it to be strong enough to handle monsoon winds without tweaking and heavy enough that it won't shift when empty. Yet, I can lift the thing up and put it on my trailer if I want it somewhere else. If it's mobile, I can back it right up to the guy wire for the power pole in the yard, and if the power company needs access, I can just hook chains to my truck and drag it out of the way for them.
So that's what I decided to do. I decided to build a moveable container for a shed.
Here we are at Glendale Steel Supply grabbing stock. I got there just before closing time on Friday. I bought 1 40' cut in two of C5x6.7 (5" C channel, 6.7 pounds per foot), 12 1.5" square tubes 1/8" wall, 5 2x3 L angles, 3/16" wall, and 8 1.5x1.5" angle 1/8" wall. That should keep me entertained for the weekend. The cost was $1066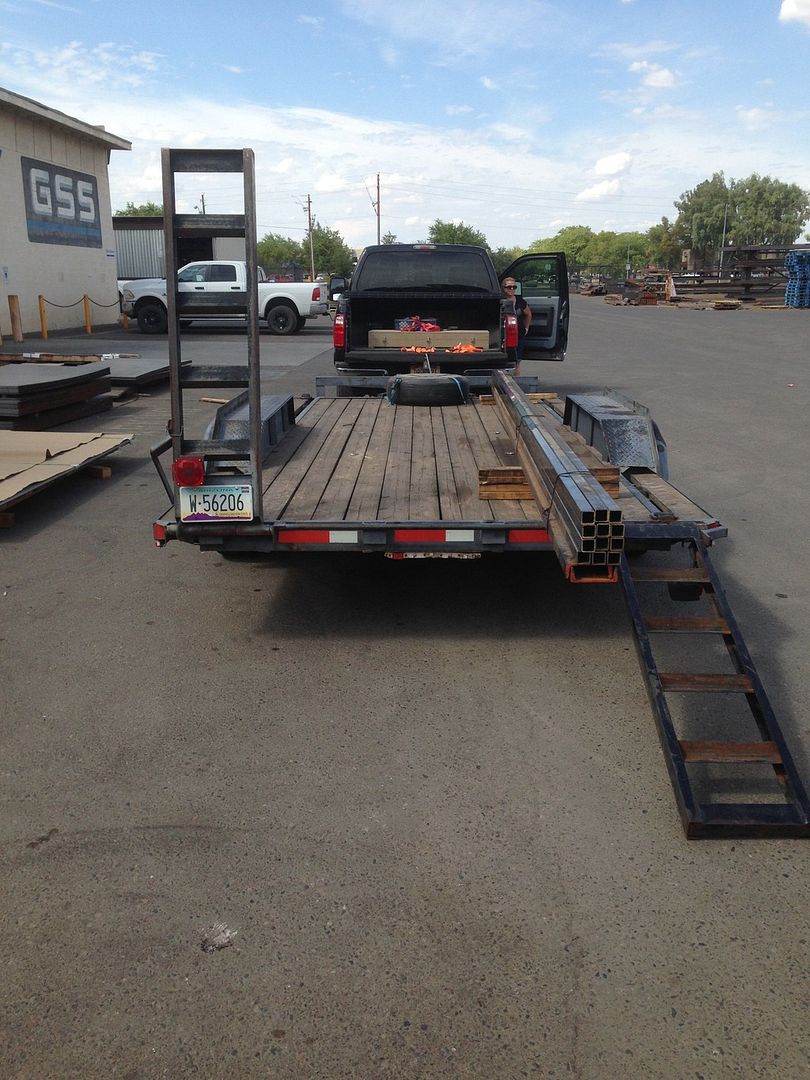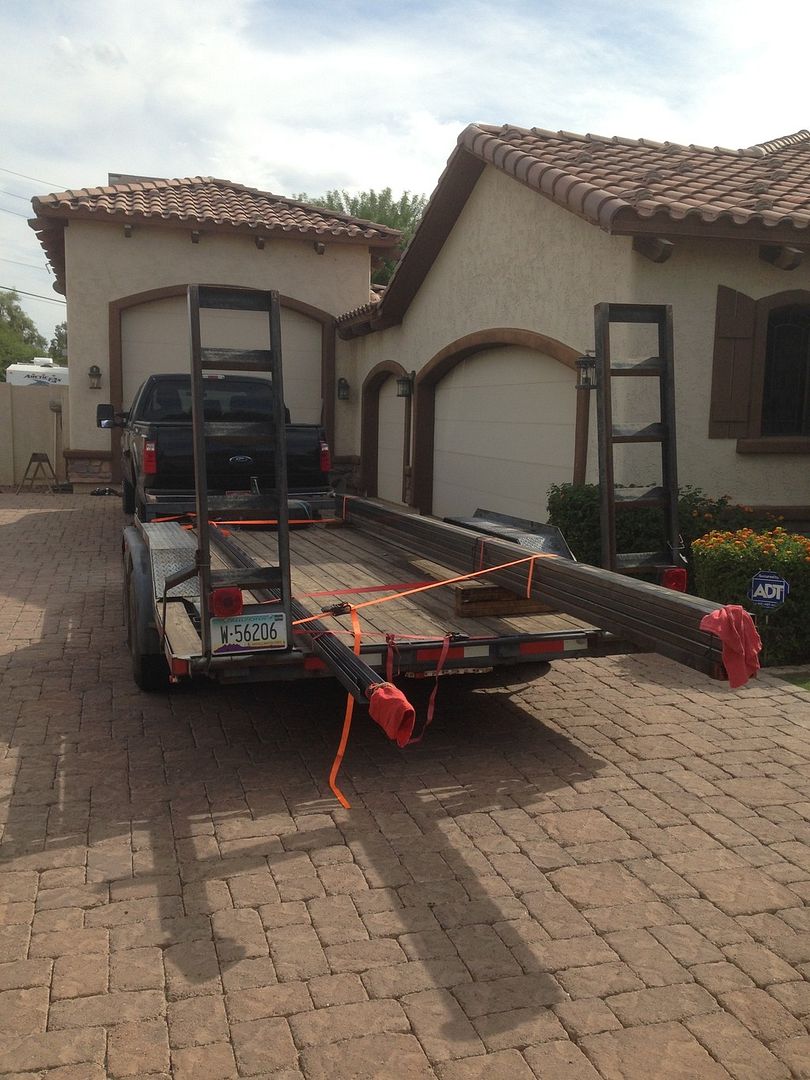 Today, I started in on the base. This will be built much like a trailer. The outside frame is C channel and then the cross supports are 2x3 L stock. The trick is that it's really got to be flat and square. Everything else will be based off of that, so unless I want the goofs to multiply, I've got to get this dead on.
As I've said before, 90+% of fab work is cutting, shaping, prepping and set up. The welding itself is a small fraction of the work. In this case, with really big heavy pieces of metal, there was a fair amount of work just having to move these things around to process them.
I had to get some help to feed 20', 134 pound channels through the saw.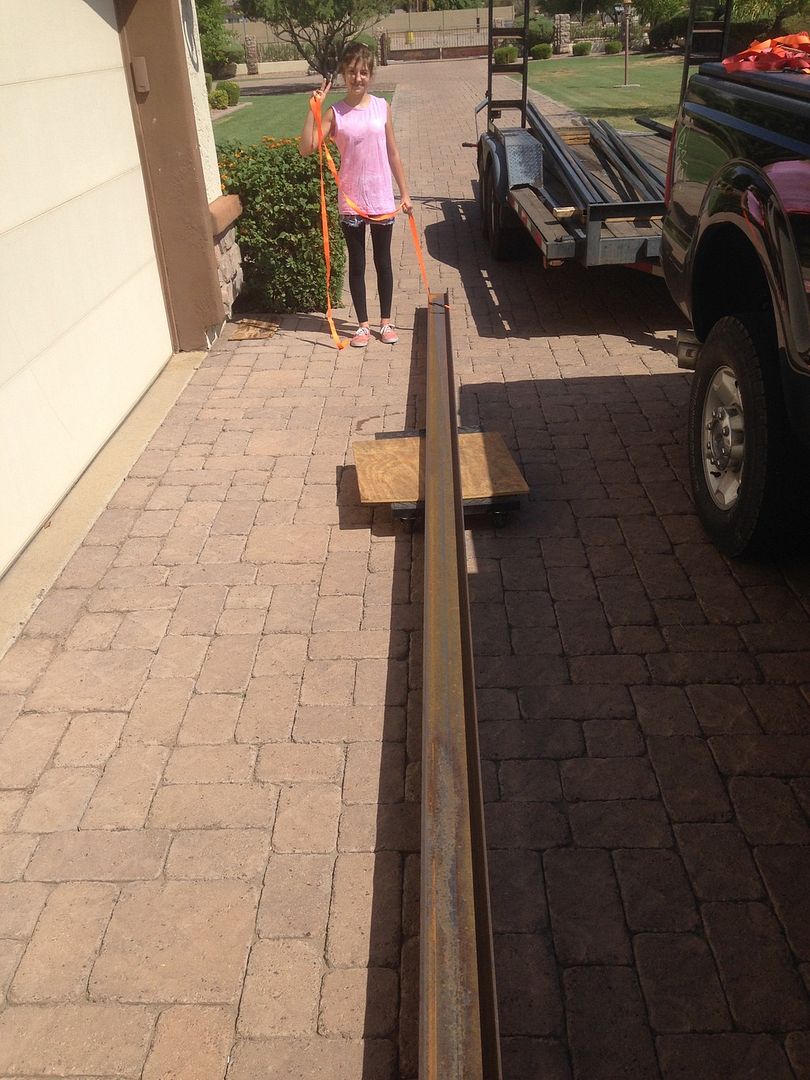 I've got several choices for how to cut metal.
The most common first tool that any home shop would have for cutting long stock like tube or angle is an abrasive chop saw. They're relatively inexpensive and quite versatile, but they're horribly imprecise. They tend to deflect the cutter to the side and give a non-square cut. They heat and distort the metal. For heavy enough material they bog down and stop cutting completely, and that's for material well within the size range that one might want to use for building things like bumpers or cages.
The next tool up from the abrasive chop saw is the "cold cutting" metal saw which is a complete misnomer. It gets hot as fuck if you let it. However, it glides through comparatively heavy duty stuff compared to a chop saw because it has a carbide toothed blade where the chop saw has a grinding blade. If you move slowly, it does not make the work metal red hot like a chop saw and so there's minimal distortion. It does a much better job keeping the end square, however, it too has limitations in terms of stock size. Mine, for example, bogged down and started popping circuit breakers on 2x3 rectangular tube of 3/16" wall (the corners are work hardened). This is a comparatively expensive tool, mostly because of the blades which cost a couple hundred. However, the blades can be sharpened and cracked teeth replaced for about 40 bucks.
The next step up from there is my true "cold cutting" saw. This is seriously the best thing I've ever gotten from Harbor Freight Tools. It's the 7x12" metal cutting bandsaw. It runs coolant. I use an oil/water emulsion that I got from Grainger called "Mobil 105" and I replaced the crappy HF blade with a nice one. I mix the coolant at between 10:1 and 20:1. I'm still on my first container.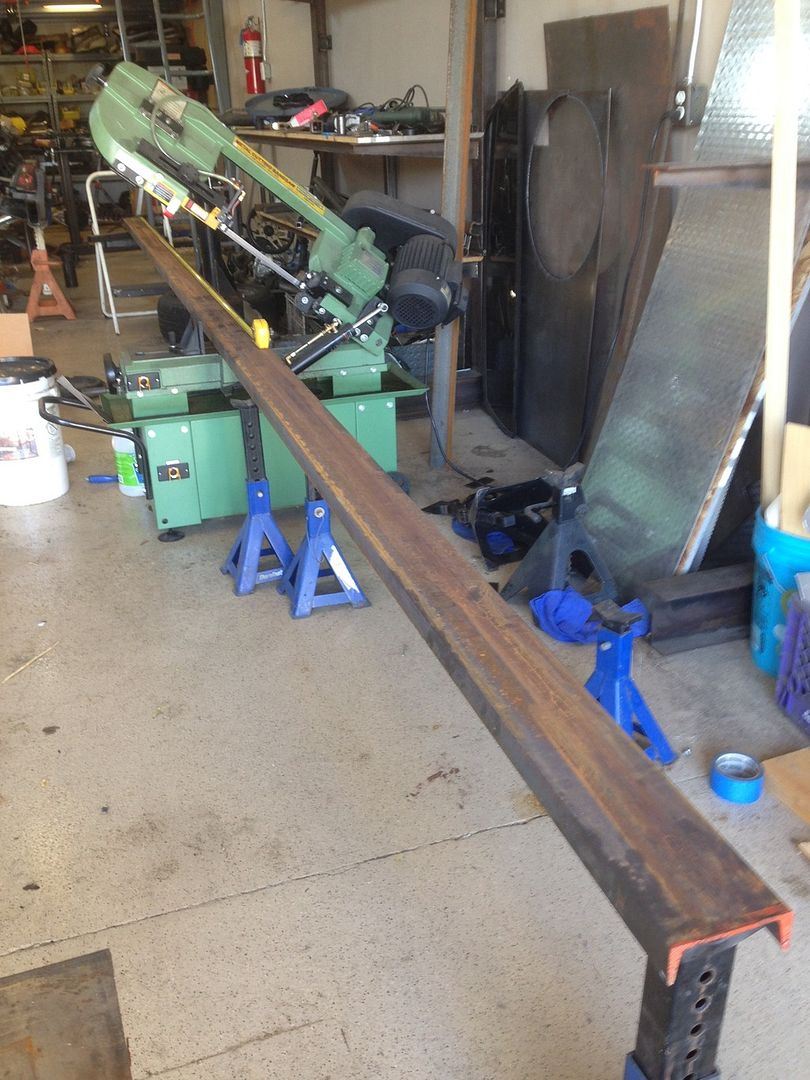 The saw has a hydraulic piston that lets gravity slowly drop the blade into the work. It mows through anything and makes a dead square cut with minimal kerf loss. I use it for almost all my cuts now.
Here's lineup on a 12' cut: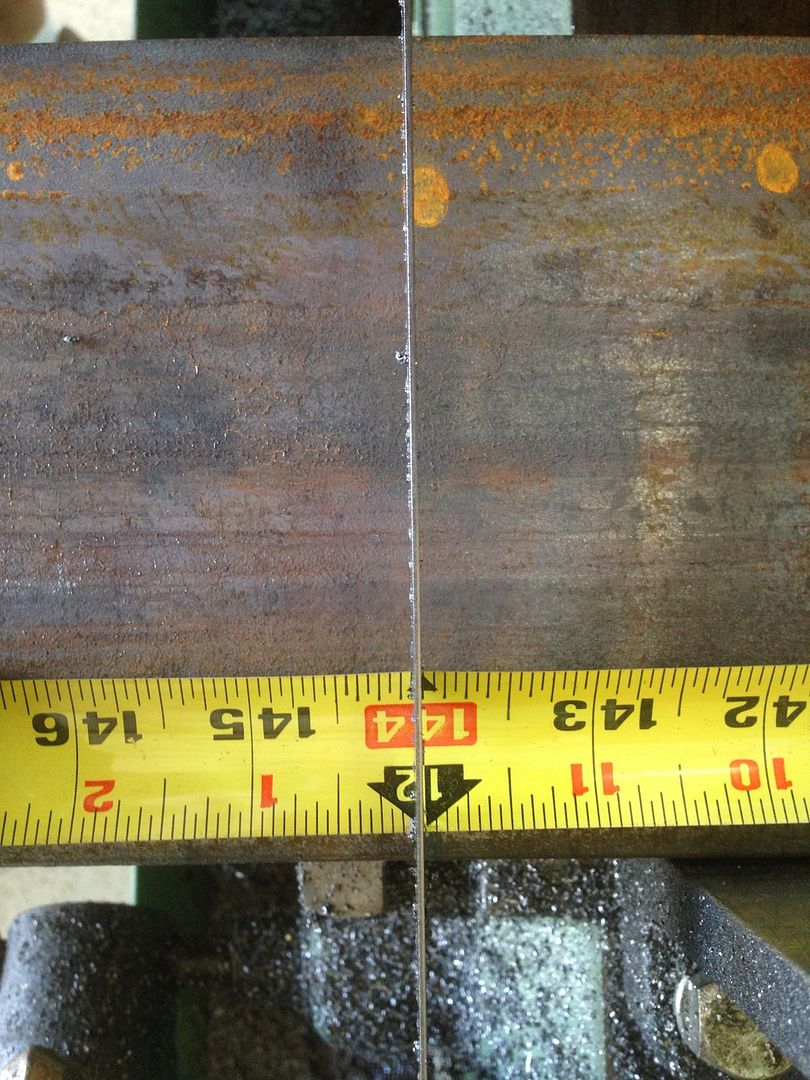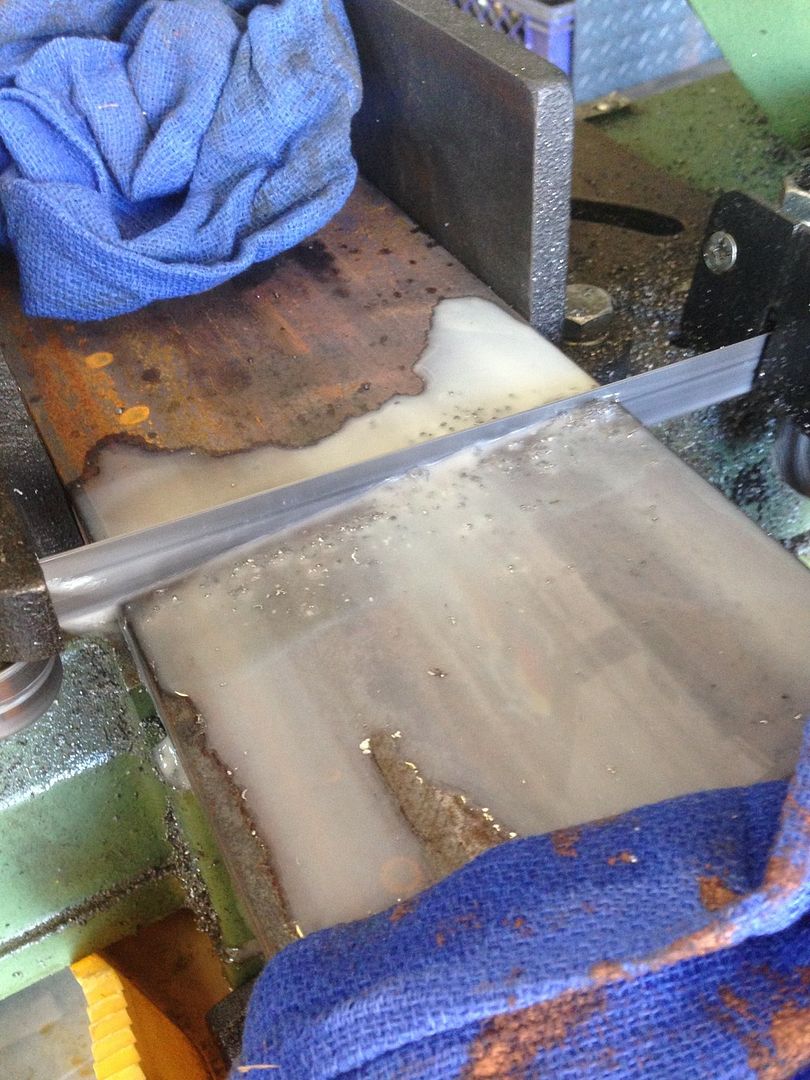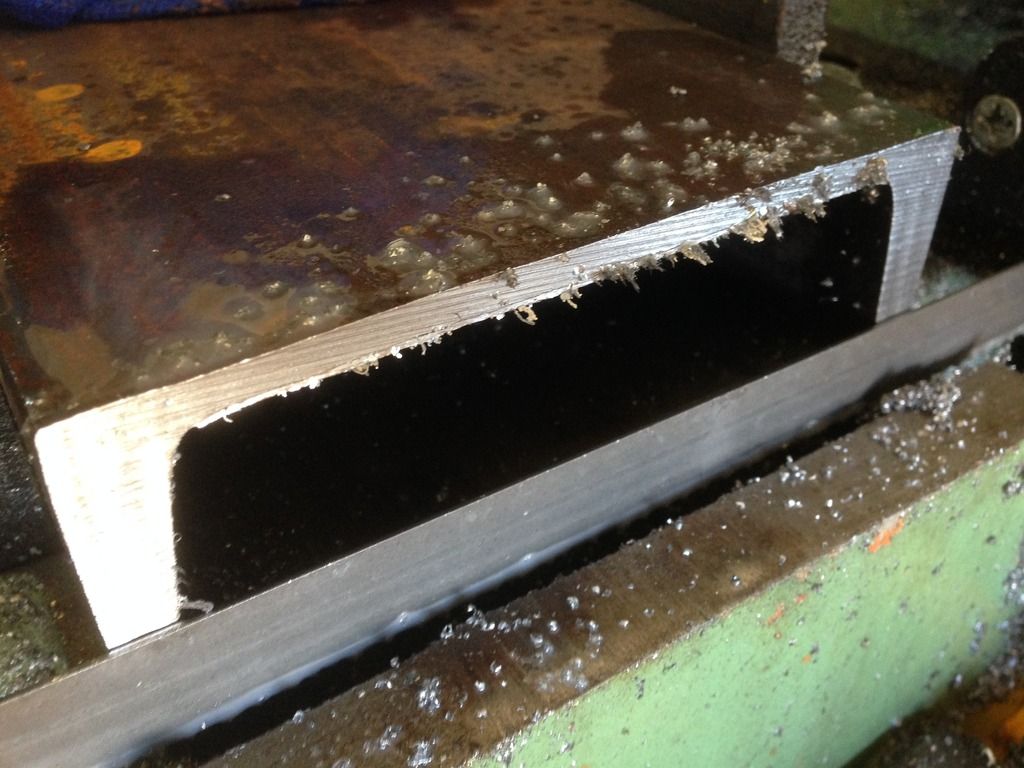 This saw has no problem gliding through stacked stock. Here I'm squaring off the ends of two 8' pieces at the same time.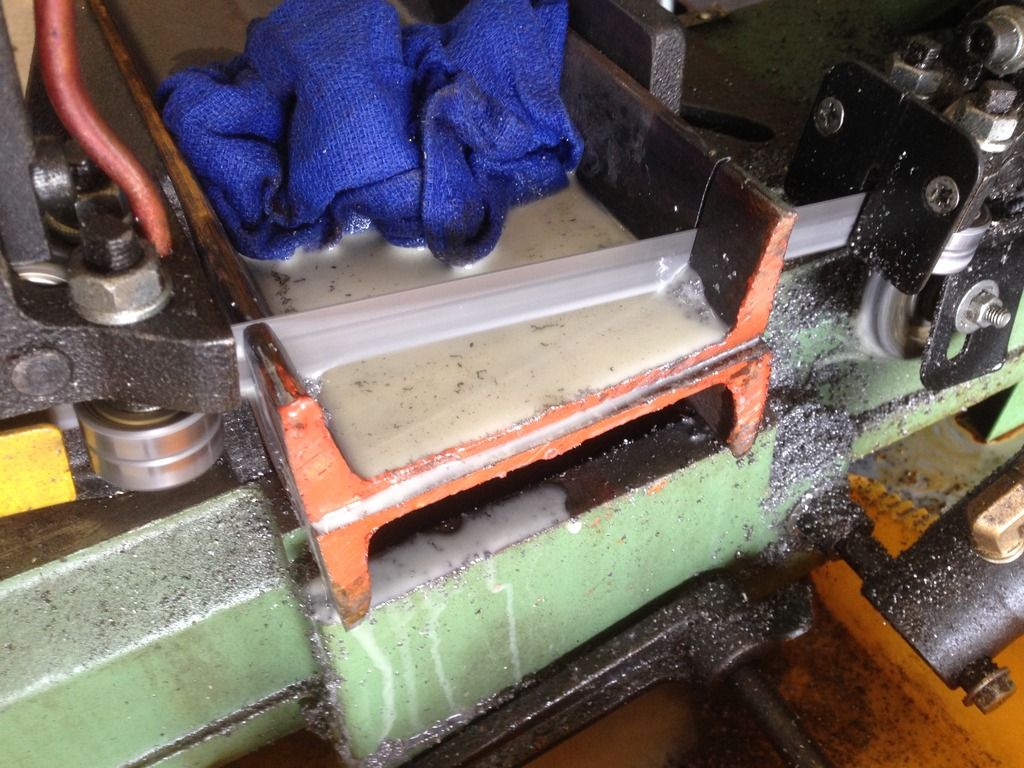 Once the parts are cut to length, they get prepped for welding. I've often recommended that anyone who would want to get into metal working buy multiple grinders. I have 4 angle grinders, for example, and also an electric die grinder and an air die grinder. I also have a bench top belt/disc sander combo that is mostly used for shaping metal, and two different tool grinders, one of which is on a pedestal. All of these tools do metal shaping duty, but the angle grinders do by far most of the work.
I almost always have at least 2 on hand for a project, one loaded with a flap wheel sanding disc and the other with a wire wheel. If I have a third, it has either a grinding disc or a cut off wheel. If I load up all 4, it's with one of each of the above. In some cases I like a flat wire wheel like the one pictured here. In other cases I like a cup wheel. Both kinds of wheel throw wire shards everywhere and there's no amount of clothing that will keep them out of my skin so I just accept that I will do some bleeding and get on with it.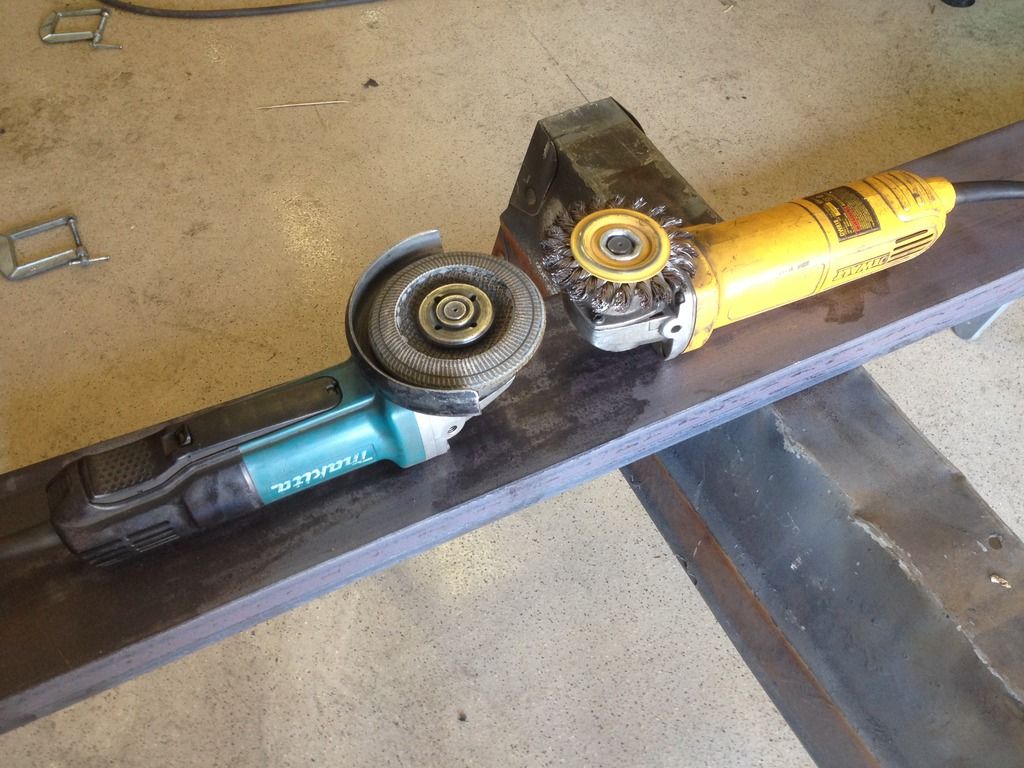 The flap wheel sanding disc is my favorite tool for the fine work of shaping metal. It mows through metal as fast or faster than a grinding wheel, and it leaves a really nicely finished shape. The only thing I can't do with a flap wheel disc is to shape the inside of some types of curves. It usually has to be on outside shapes, but that's most of everything. Inside curves are comparatively rare.
Here's the beveled end of a C channel done with a flap wheel disc. This is a minute or so of work and the metal is barely warm to touch.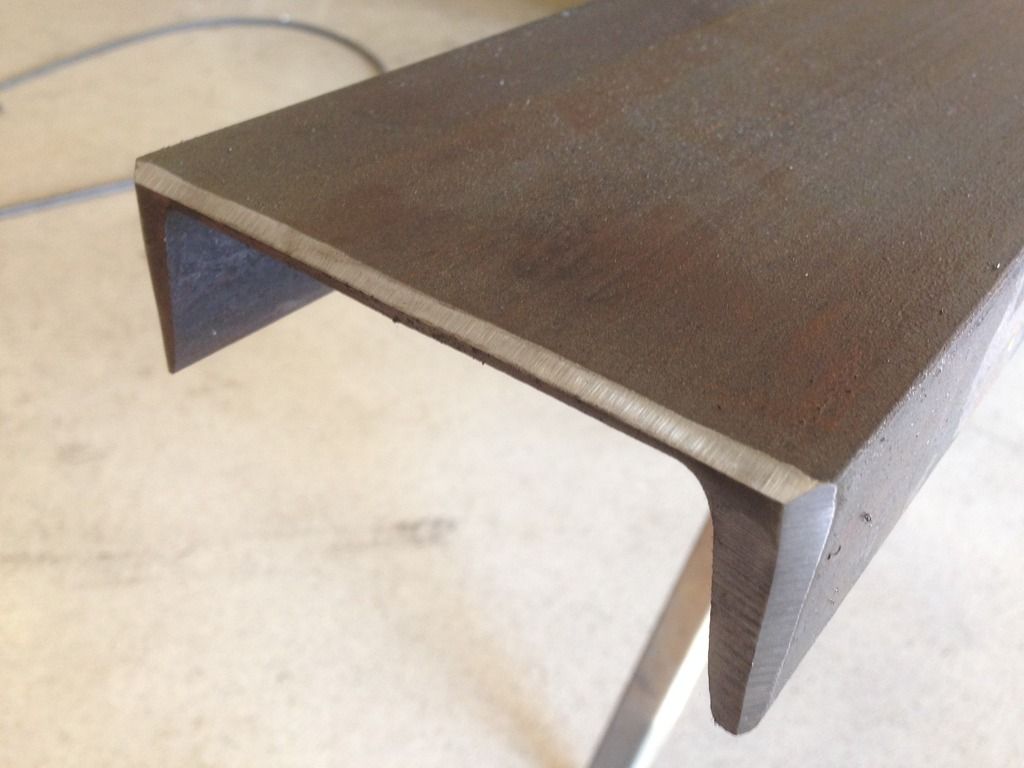 Here you can see where I'm using clamps and plates to start lining things up. The edges of the metal and surfaces where weld is going to to occur are down to bright metal using the wire wheel. At this point, I've been working for quite a while with a bubble level, a framing square, and a combination square to get the outside frame as accurate as possible before it starts receiving tack welds.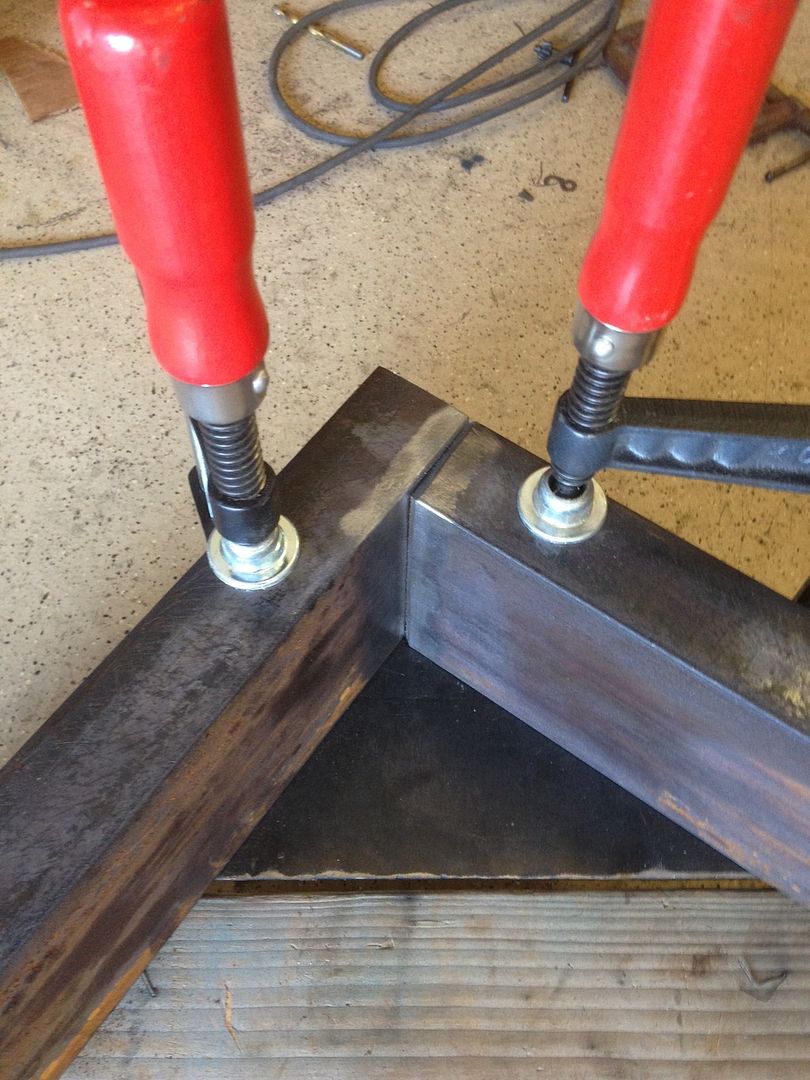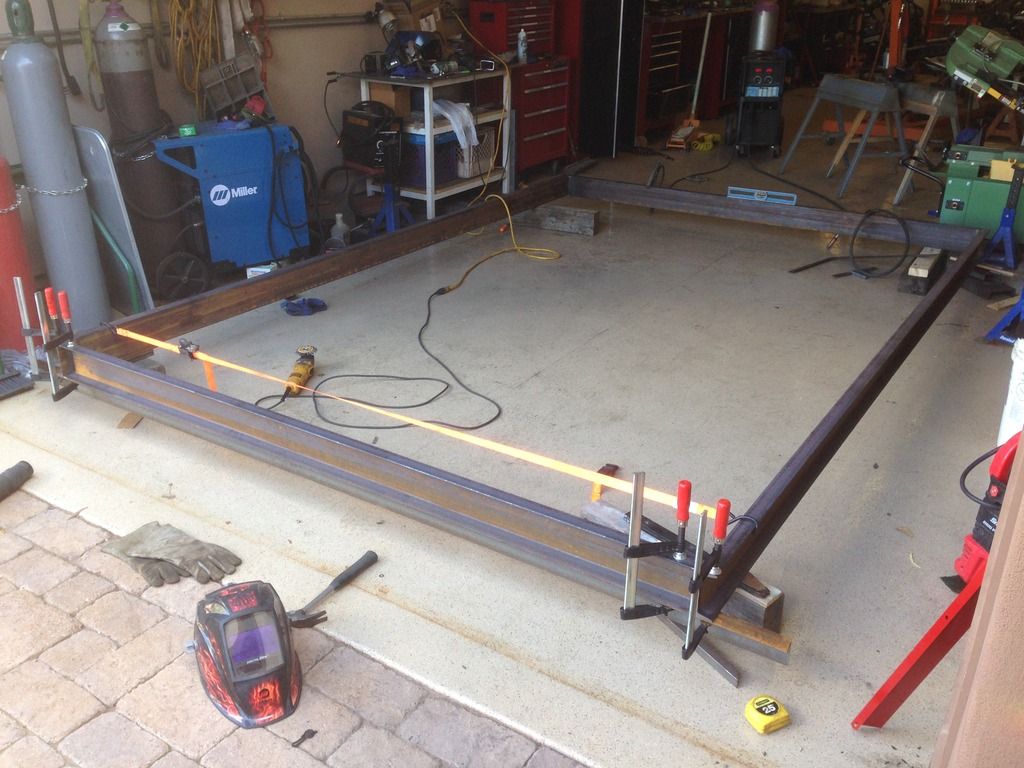 Wind is the enemy of shielding gas. When I weld, if there's any air movement, I close up the garage door and shut down the swamp cooler. Here, I'm just doing a couple of tacks but I don't want to lay down a bunch of useless oxide by tacking with the shielding gas being blown away. If I did that, the weld makes a very wrong crackling sound and comes out a dark gray and very porous. In that case, it's oxidized through and through and totally useless. What's worse, if you don't grind that shit out, it'll get incorporated into the weld that will later go over it.
Making a little impromptu wind barrier was sufficient for the light air movement at that time today and the tacks were fine.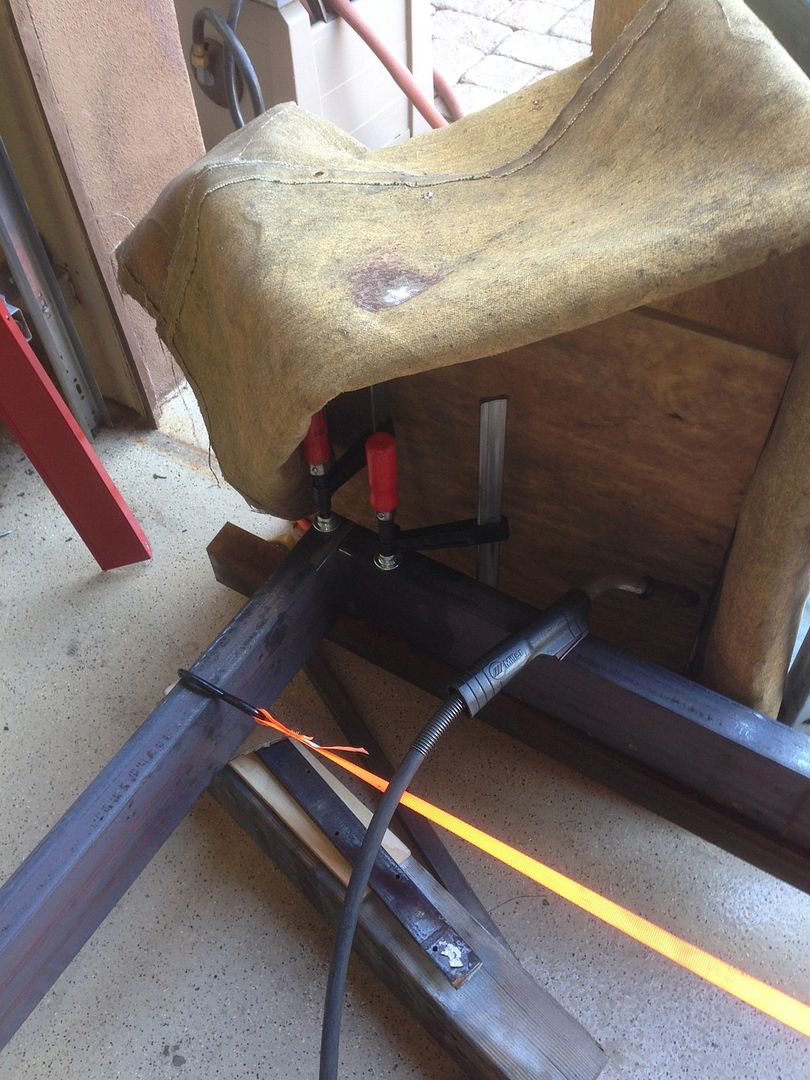 One way to detect distortion in a square/rectangular construction is to compare diagonals. Assuming that you're maintaining flatness, (which you really need to verify with a level, because it's easy to get things to distort out of plane) and assuming that you did a good job with creating equal length parts and lining them up, the diagonal measurements are a very sensitive indicator of square. If they're equal, you're doing great. If they're not, it's easy to tweak a tack welded structure with ratchet straps or a come-along across the diagonals. I usually use two crossed ratchet straps to exert a stabilizing and balanced tension while rechecking and moving around applying sections of weld.
Here's an initial check of diagnoals which were darn good: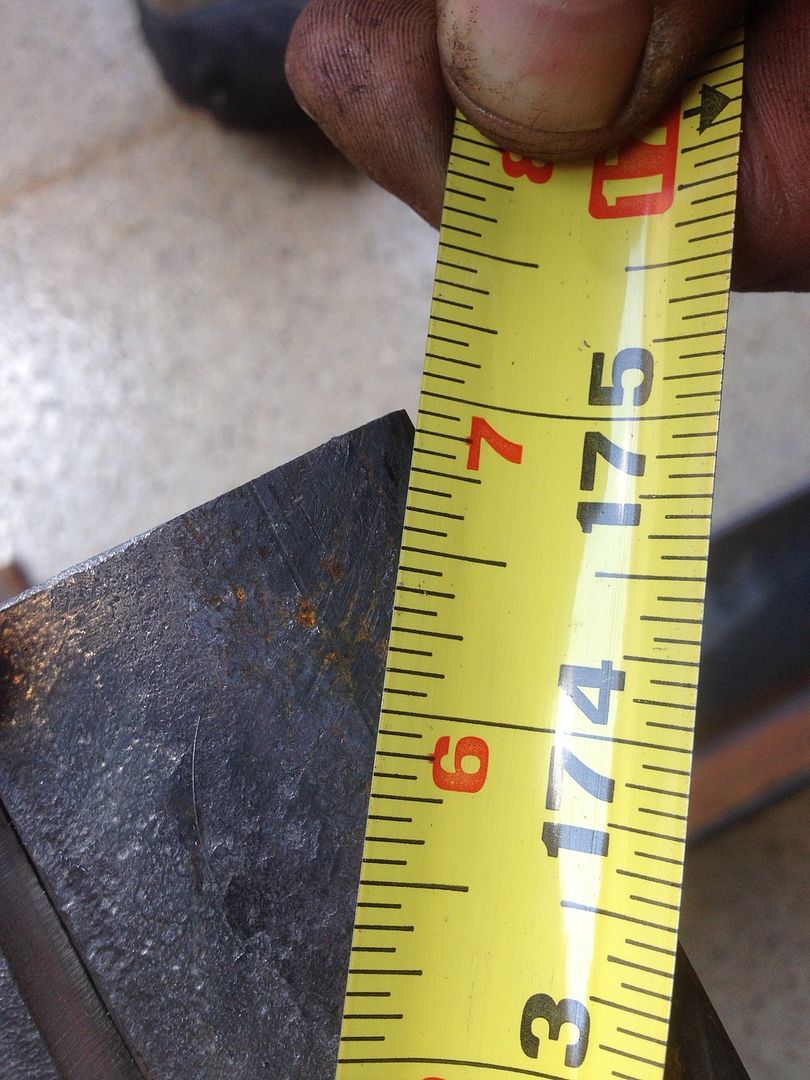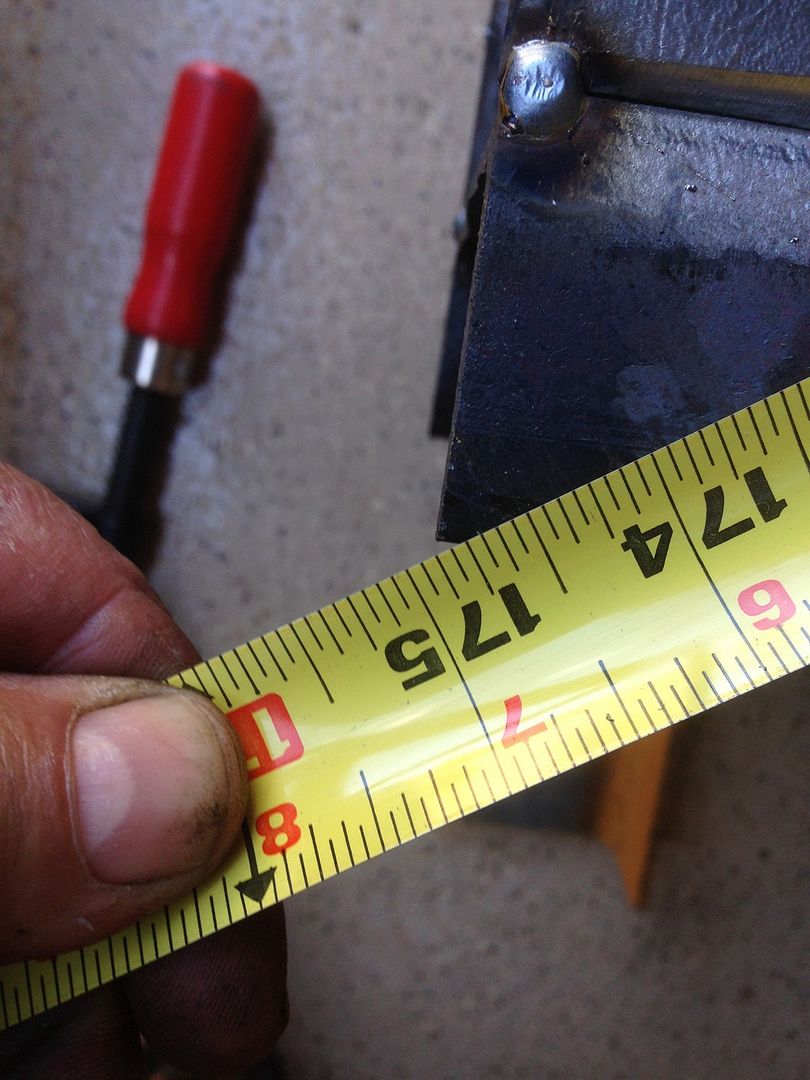 I'm within a 1/16" in almost 175". As I continued on, small distortions flipped that back and forth so that one or the other diagonal was 1/16" longer, but I was able to keep that degree of accuracy through several additional steps.
I'll post more tomorrow. I've added the two main central cross braces, each made of back-to-back L angles and I've cut 4 of the 5 additional braces to length. They'll go on in the morning. Then I'll lift the thing up off the floor onto jack stands, and do some welds from below.
The framing for the rest of the structure should be pretty quick, at least to the level of tack welds. I expect to have a shed looking shape by the end of the day.