I'm going to start this build thread instead of Nestor. This is partly because I want to say a few things about build threads, partly because I want to set the right energy level to get Nestor back in the saddle, and partly because I just need a fresh space to get some stuff off my chest that doesn't really belong anywhere, and so I can take advantage of this opportunity for a little self-therapy through writing.
Build threads themselves can be healing processes. For those of you who were aware of my epic adventure building the Turtle Monster, you know what I went through, and how it changed my life. My thread on Pirate, and it's mirror on the blue room were all about play by play honesty. I only knew that I was eventually going to get the thing built. I didn't know how, and I didn't know how well, but I knew that I'd do whatever it took. I have enough history of taking on challenges that I could say that much with confidence. Beyond that, my only expectation was that I was going to deal with whatever I had gotten myself into.
Build threads can easily be assembled and posted in retrospect. A few pictures of a truck when it was bought, a few wheeling pics demonstrating the presence of some aftermarket parts as they accumulate, maybe a nice shop shot of a completed weld, and pretty soon you have a photo essay of a "build".
I call that the BIG LIE.
Those threads post up in about 15 minutes of link pasting from photobucket, combined with a few choice sentences about what is being pictured.
Omitted are the records of frustrations and regrets, the bad choices, the unused parts, the lost connectors and the busted knuckles. There's no mention of the phone calls and waiting for back orders, the compromises, and the way the parts didn't quite fit perfectly together until they were massaged with a grinder.
That part is the TRUTH that we conveniently forget once the rig is rolling and we're wheeling again.
This is why a build thread should start before the build.
My concept is that a build thread should be all about TRUTH in reporting.
There's more to it though. I firmly believe that a large fraction of the unfinished projects I see posted for sale, and the build threads that peter out and go dormant on multiple forums are the result of unrealistic expectations and the inability to react to and correct problems along the way. Having committed significant resources to a dead end pathway in the build, the owner realizes that the time and expense involved in backtracking and correcting is more than they're willing to invest. They lose interest and eventually try to sell.
A build thread can attract input that is sometimes quite insightful and helpful. I personally benefitted from it tremendously, and not just on Pirate. I had people raise very interesting and valid points about my build on the blue room thread as well. The more detailed I was about the thinking and the doing, the more the people with experience in related matters could interact. My build thread was a key part of being able to complete the build.
Build threads should be about getting ideas, and reacting to them.
Beyond the selfish value of a truthful build thread, there is a more altruistic goal. A large fraction of the people who follow build threads are thinking about building things themselves. Sandbagging these people with a 1-shot photo essay covering 2 years of work is no better than showing a pimply faced teen boy a Hustler centerfold. We even call it "build porn."
The right thing to do is to post up clearly and honestly about the thinking, the doing, and then the results. Only then can other people directly use or build upon the tech that they observe.
Build threads should be about sharing tips and tricks learned the hard way, so that someone else might be able to avoid the pitfalls and share in the successes.
Anyhow, those are my thoughts on build threads. I just wanted to put that out there.
Nestor's build is going to be one big project. Whatever we think it's going to be like, there's something we're missing, guaranteed. That's OK, though. That's part of the puzzle and it's part of the fun. We're going to do this, and whatever it takes, that rig will be back on the trail, and he'll wheel just as hard as anyone. However, we have to remember that nobody wheels alone and nobody builds alone. I owe a debt for all the help I got on my project, and I always try to pay the community back with as much as I can. I really love this part of wheeling, where people come together over a greasy pile of steel and try to make it run, so doing this sort of thing is a privilege for me. I'm not alone here, so with some determination, I'm sure we can get this thing back on it's wheels.
I'm not going to recommend a time line. I would like to say that he should be wheeling before the next snow on 4 peaks (OK, yeah... I snuck it in there as a cheap and deniable challenge but so what...) but the important thing is to just keep plugging away. It is what it is. It takes what it takes.
Nestor's goal is to build THIS truck back up and not to just replace most of it and move some parts onto another rig. It's doable. Anything's doable.
Nestor wants to remain streetable. That means not buggying the thing out, putting glass back in, and not upgrading the articulation to the point where it flops on it's side making a right hand turn.
Doable.
He needed some cage bars, anyhow. It'll be time to do that while everything else is getting fixed. The dash was in the way anyhow... that can be replaced with a sheet of aluminum and a few gauges, which will make cage bars easier to install.
He was thinking of 4 linking the rear. It's reasonable to consider 3 links in front too. That would be compatible with throwing in a hydro assist for streetable and crawlable steering.
Doable. Doable. Doable.
That's the tone I want to set. This is doable. Some of it will just snap together. Some of it will be frustrating. Some plans will work, others won't, and whatever we figure out, we'll get it done. It's an article of faith and a promise of resolution.
Here's where it starts: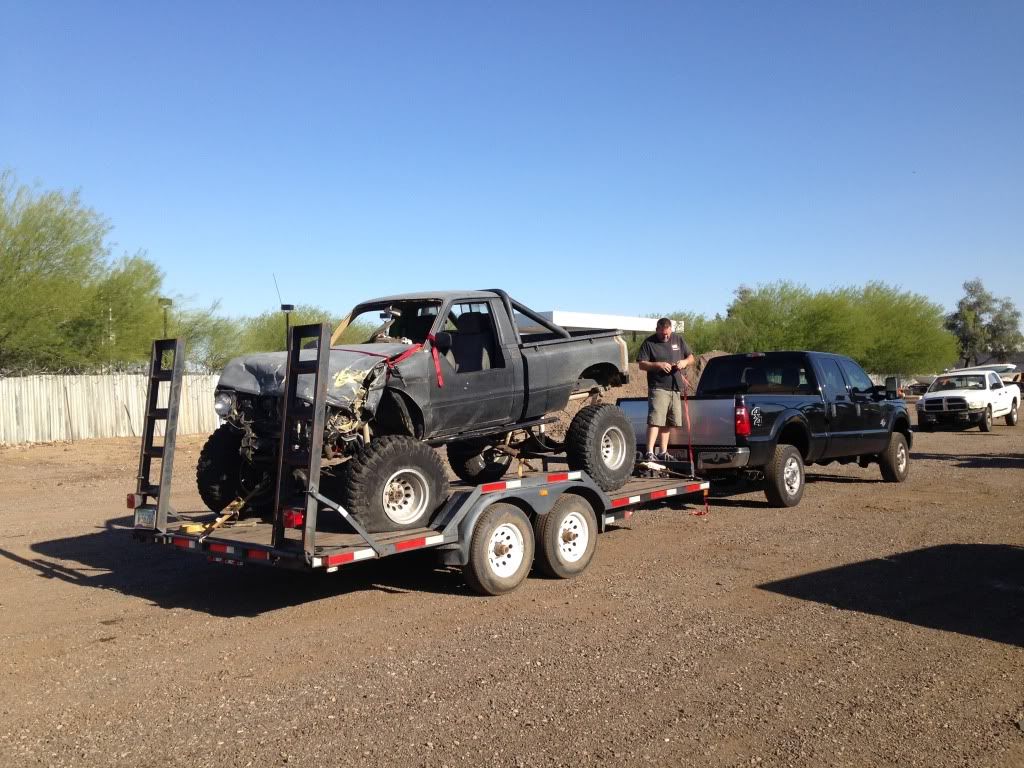 I have to say, going to pick that thing up was a little painful for me. Nestor is physically hurting, but he's alive. I've seen a lot of trauma over the years and it's not rare for people to arrive with a polaroid of the accident scene brought in by the paramedics. It helps to put the right game face on when we start to evaluate the patient. The degree of metal destruction correlates to the degree of concern for unseen internal injury.
Nestor's right. I don't see how he got out of this without major injury. We don't have a good pic of the steering column and the dash, but it was bashed FORWARD as he slammed into it. He was a 200 pound water balloon that crashed into the dash at 45 mph, milliseconds after his front end got crushed in and his frame came to a screeching halt. His body bent steel, broke plastic and shattered glass, yet he did not pop... significantly.
It shook me to see this. It comes on the heels of the Easter rollover on the backway to CK which claimed the lives of 2 experienced Jeepers in a what sounds to have been a built rig. It just seems so unreal and wrong that people in the prime of life, free of disease, can be so easily and brutally erased from existence.
Are we stupid? Are we in denial? Is it all worth it? These questions are legitimate and yet they have no answers because we can't step outside ourselves to have an objective look at the issue, and even if we could, the perspective wouldn't necessarily help. We do what we do because we love to do it, and we know what can happen. There's more to living life than making decisions based on risk avoidance, and there are some really great experiences to be had along the way.
Nestor's crash fucked me up a second time, just when I thought I could put the contemplation of death aside. This time, though, it hammered home that the randomness of mortality makes even the dilemma of contemplating it, itself, insane. You should think about your relationship with death, because if you don't, then you're in denial. However, it's pointless to think about it, because thinking goes nowhere, and avoiding risk doesn't make you safe. I thought I had packed away my existentialist reading materials along with my bong and tie dye shirt years ago, but there it is. You can't deny the absurd.
However, you can vent about it in a build thread, and thereby get it out and get past it.
The project will need to include 3 broad based areas of approach, which can progress in parallel to some degree.
1) Engine/power train
2) Body/frame/cage
3) Axles/suspension
My value to the project will be primarily about 2 and 3, plus I have a cool garage to do it in (literally COOL... thanks to Nestor). The engine will hopefully need minimal work, and all of it external. I'm hoping Bryan and Nestor can get that figured out.
Parts sourcing starts now.
Nestor, I hope you're feeling OK. If I recall correctly, they're working on your finger today.
I sent you a little get well soon card. I think it'll get there tomorrow.