So I'm getting closer to where this thread and the "Never Say Die" thread merge for a period... except there was a small setback.
I got high speed rear-ended last Friday. I was southbound on 67th Ave at Peoria, fully stopped, 1 car back from the crosswalk, waiting at a red light. I'd been stopped for a few seconds. I didn't even hear brake squeal or skidding, and I hadn't looked in the rearview mirror (which was nice because my neck was straight).
I got rammed HARD by a guy in a Chevy Malibu going full speed.
Fortunately, the F350 is a bit bigger than a Malibu, and I didn't get catapulted into the car in front of me.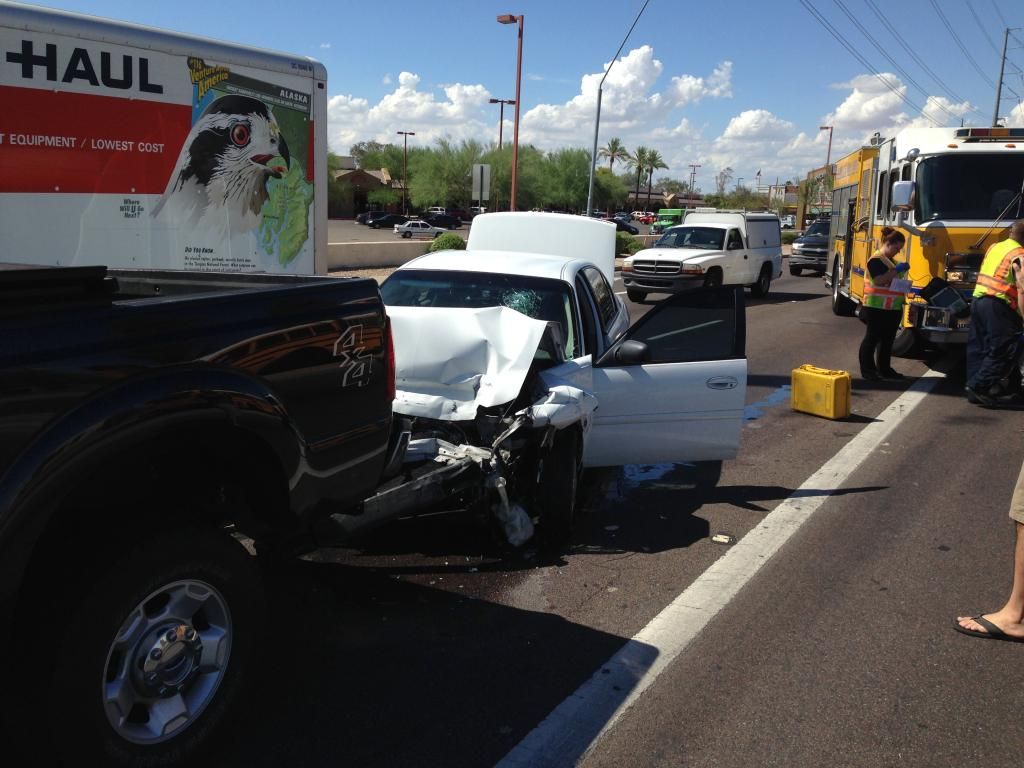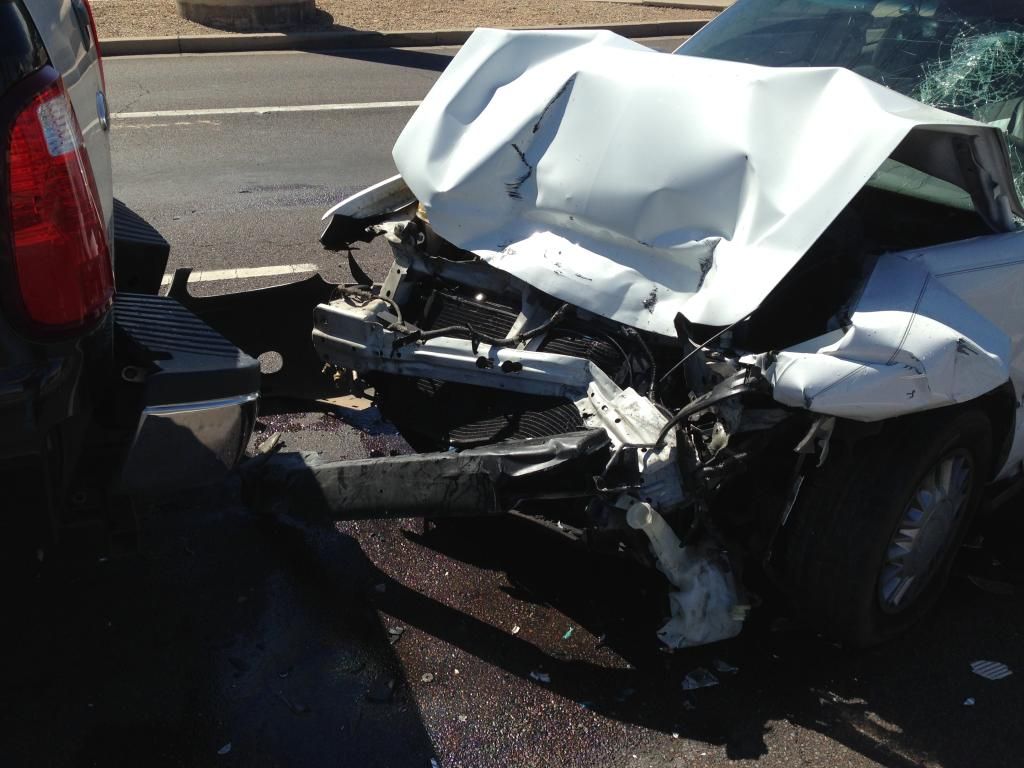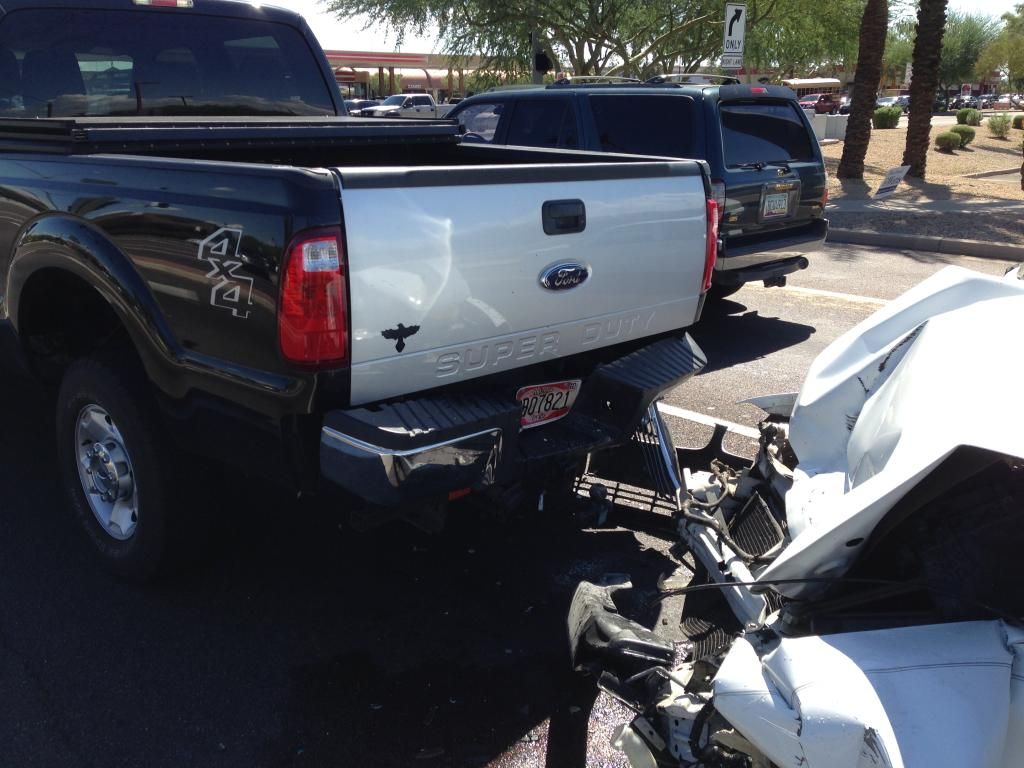 I was completely uninjured but the guy in the Malibu was unrestrained and he got rocked. He bent the steering wheel and went head first into the windshield.
It's a crappy pic, but I'm trying to show here how the windshield got a head shaped bubble pushed out in the center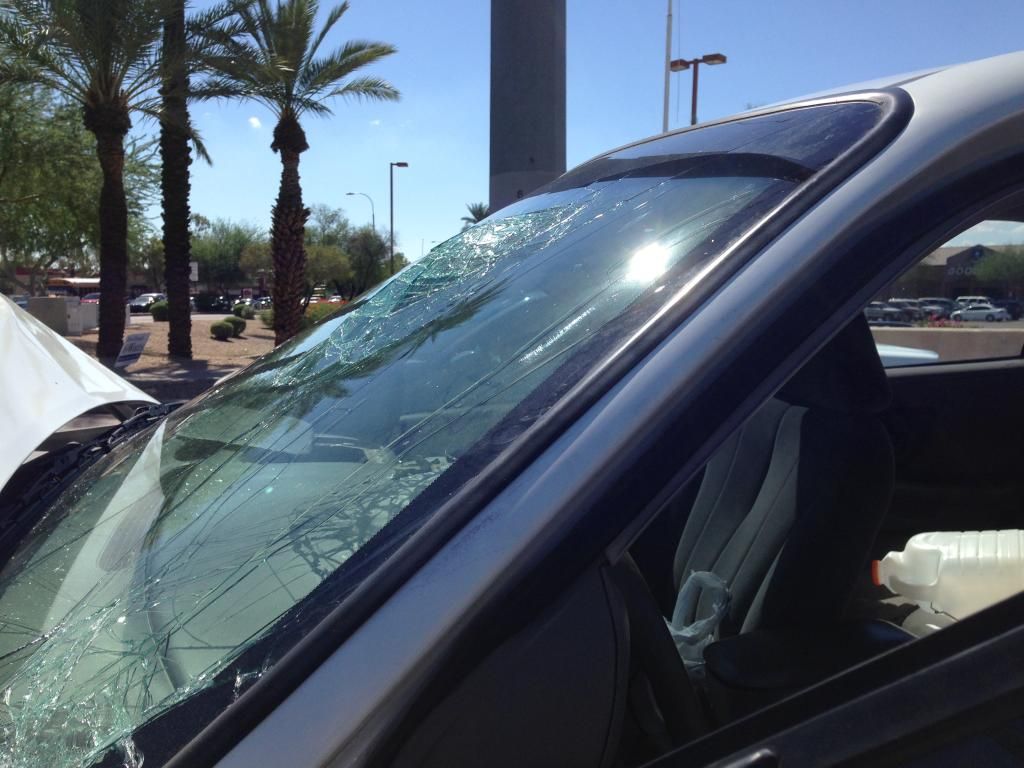 The guy was unconscious when I got to him, but he snapped out of it right away, and was alert and oriented after that. He had some cuts on his forehead that were dripping, and some from his nose, but otherwise he was moving everything and denied any sort of pain.
He held a shirt to his head till the EMS arrived and did a head wrap.
After the police report, I drove away, but not before I had to get some of the guy's bumper plastic and grill parts out from between my exhaust pipe and rear axle.
So far, the estimate for me is around 8200, but they didn't realize they were looking at a specific Torklift "Super Hitch" receiver for my "Super Truss" tow extension. That also has the rear tie down points for my camper, and I'm pretty sure the front tie down parts are also bent or sheared, because the bed is twisted.
I have yet to hear back whether or not the guy had insurance... I'm going to assume at this point that he did not. I'm guessing I'll be using the "uninsured motorist" portion of my own insurance.
In the mean time, I'm stylin' in the cruiser.
... which has no A/C.
... or suspension...
... or power.
But the good news is that it's motivating me to find the engine/transmission for the upcoming swap. I'm about to plunk down on that, but I may need to wait till I have a truck again to go pick it up.