Synopsis
Montana Mountain is really nice, easy, and quite scenic trail. The trail is grated and maintained quite nicely, though it can become rather adventurous in the winter or following heavy rainfall. It has the typical beautiful scenery (mountains, views from altitude, etc) but also some unique features including a cool series of switchbacks, the trail passing itself on the other side of a canyon, and optionally some neat ruins.
Running the trail 'clockwise' (see map) you will end up very near Superior, which is a great place to grab a bite to eat and enjoy a good time.
You will notice on the map, we took a little side trail off the east side of the main trail. Down that way is a nice place to play, cool geological features, and the prison ruins.
Difficulty
For the most part this trail is extremely easy. If you stay on the main trail there is nothing that stands out as an 'obstacle.' 4x2 people will have no problem.
That said, weather may play a huge role in the difficulty of this trail. In the winter months there may be ice on the portions of the shelf road which can be rather dangerous. If you come to some ice, evaluate the pitch and camber of that section of trail. An axe or shovel can be used to break up the ice and make passage much safer. Remember that even if it's only 10 feet of trail, a little bit of work to get across safely is better than tumbling off a mountain slope!
After heavy rainfall that trail may be washed out to varying degrees. While these washouts are likely not a technical difficulty for an FJ, use caution because again you'd rather not tumble off a mountain slope. Days after an epic rainfall in 02/2008, the washouts were passable by an FJ on stock tires and FJ's at stock height, but they were certainly much more challenging than the trail's 2.0 rating.
Length
The trail from 60 back to 60 is a little under 40 miles. How long it takes to complete is pretty much up to you, and what speed you like to cruise the many smooth parts. If the trail is in good condition, you can complete it in time to grab a late lunch. If the trail is icy and/or washed out, it could take much longer, even a full day.
I recommend downloading the GPS track and taking a look at it in Google Earth, there are a few intersections along the way.
Location
Montana Mountain trail starts and ends off 60 west of Superior. There are different trails in the area, and if you look at the map you'll see what I outline below and in the GPS track is only one way to go from/to 60 to hit Montana Mountain.
Google Maps - Montana Mountain east intersection with 60
Google Maps - Montana Mountain west intersection with 60
Aerial of the trail: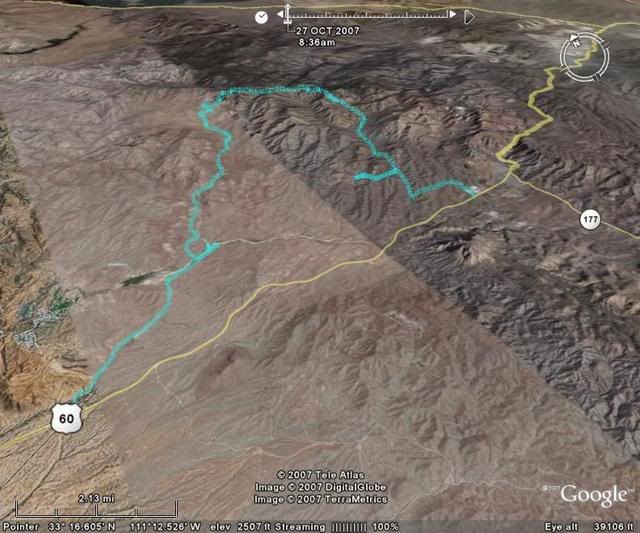 Pictures
Some representative scenery...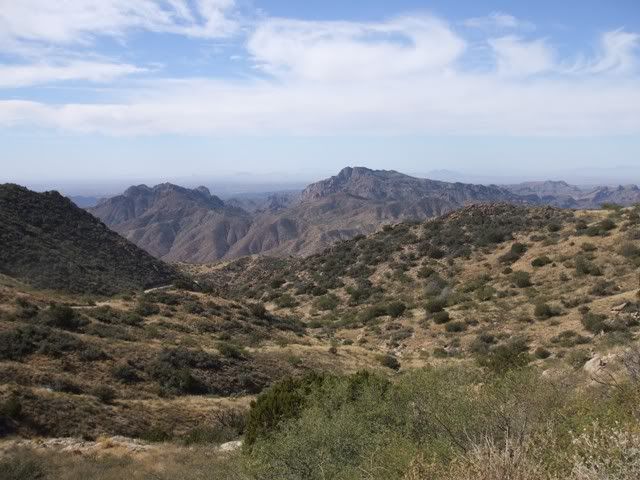 One of many many switchbacks... Here you can also see how nice the trail surface is. Much of the trail is maintained this well.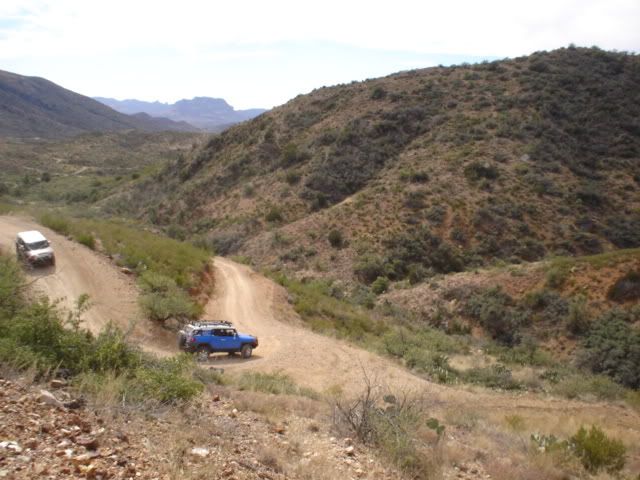 The trail sort of horseshoes around a canyon at one point, here we've spotted Lance on the other side!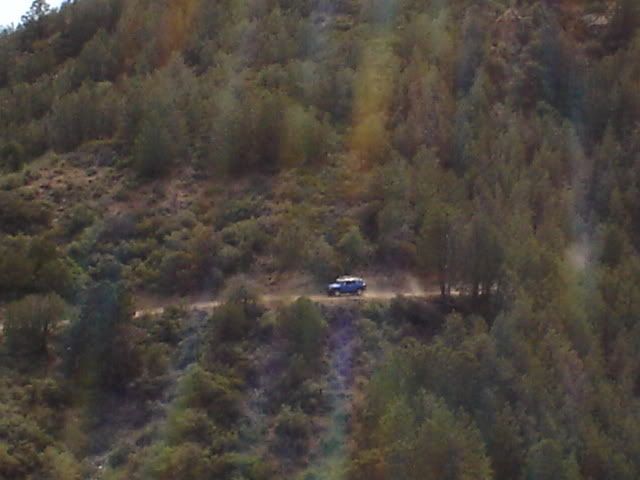 This geological feature is not on the main trail (this is on the small side trail we took, see the map). I think Lance is saying something like "Behold!"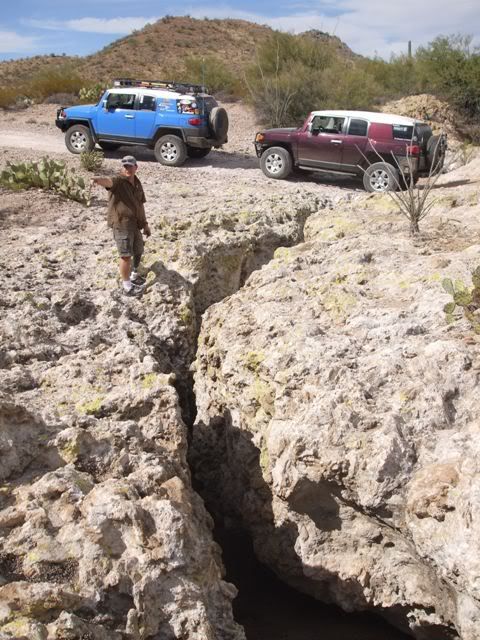 Lance stands ready to tackle whatever is ahead. Here you can see the trail is rougher, but still of trivial difficulty. It gets worse than in this pic, but not by too much.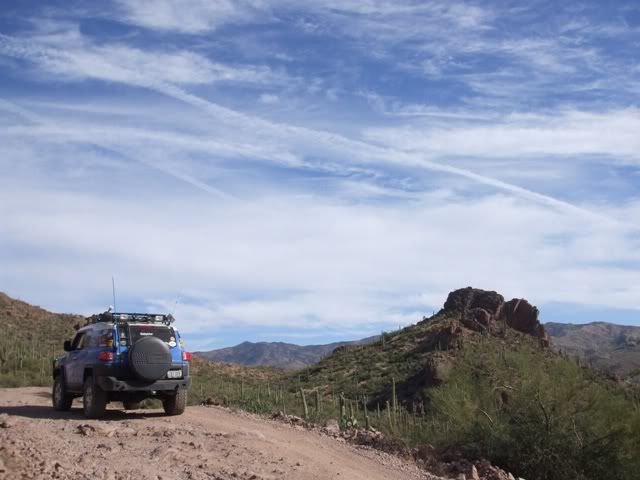 This is an example of a very extreme washout that can occur after heavy rainfall. Generally these things have a depth gradient, where the mountain-side is shallow and it deepens up to the cliff-side. Most often, if you hug the mountain-side it will be no problem, thought it certainly makes for a cool pic!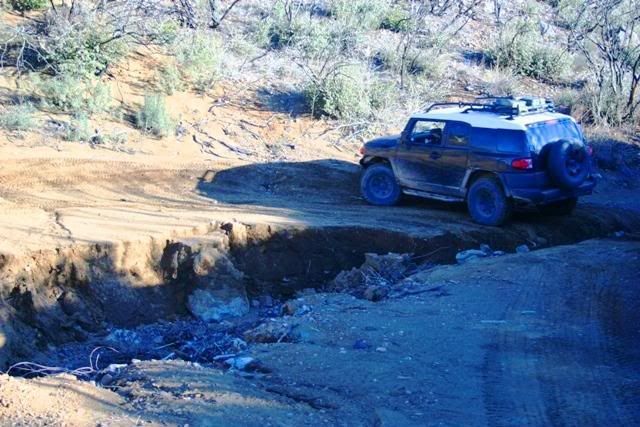 Ice on a section of trail narrowed by erosion. Taking the time to break up the ice made this and other sections delightfully uneventful.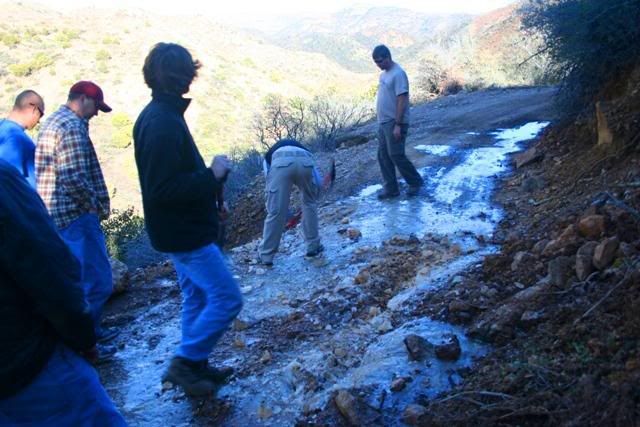 Previous AZFJ Runs to this Trail
Montana Mountain - 02/02/08
GPS Track
Attached below is a Google Earth .kml tracklog of the trail.