Synopsis
Smasher Canyon is a little known trail right outside Cottonwood by Clarksdale. You take Sycamore Canyon Road to find the trail, which weaves its way down around a small canyon. Main entry is through FR258 and its a full loop then begins immediately winding its way through the canyon over obstacles and scrub once the trail begins.
This is certainly a challenging and obstacle trail, not for those looking to see if a "Stock FJ" can do it or looking for a scenic trail.
Group Size:
Group size should be kept down to 5 or smaller. This is a very difficult trail that will require spotting frequently, and will take all day.
Difficulty
3.5 to 4.0 - at a minimum. The trail is near non stop Boulders, obstacles, shelfs, crawling, etc... Minimum front and rear locker are required, as well as 35" tires, and full set of armor. Expect some road rash, and potential body damage.
There are several narrow and tricky spots, which a larger truck could have difficulty with. There are also no bypasses, so the trail is at a minumum 3.5, because you have to take the "Easiest" route through just to get through it, but you can make it harder by taking some of the more challenging obstacles (strictly SFA and larger tires). The weather could also wash out some of the obstacles as well, which would make it even more difficult.
Also, note that there is no way out of the canyon other than two "bug out" hills, which are severely steep and loose. A smaller/lighter truck will have difficulty climbing and may get stuck. We had to winch two Four Runners out as they could not climb the hills due to lack of power.
This is clearly one of those trails that you should know what you are getting into, and only experienced drivers should attempt.
This is at the farther end of what a modified FJ is capable of.
Length
About 15 miles from start to finish, the Smasher Canyon loop is about 3.5 miles of obstacles.
Location
Aerial of the trail:
Pictures
A good deal of the track included is just a graded dirt road with nice views
Atfer you turn down 9519, you look for the "Jeep Trail" sign
Lots of good size shelf climbs, with high potential for getting high centered
Some tight squeezes and careful driving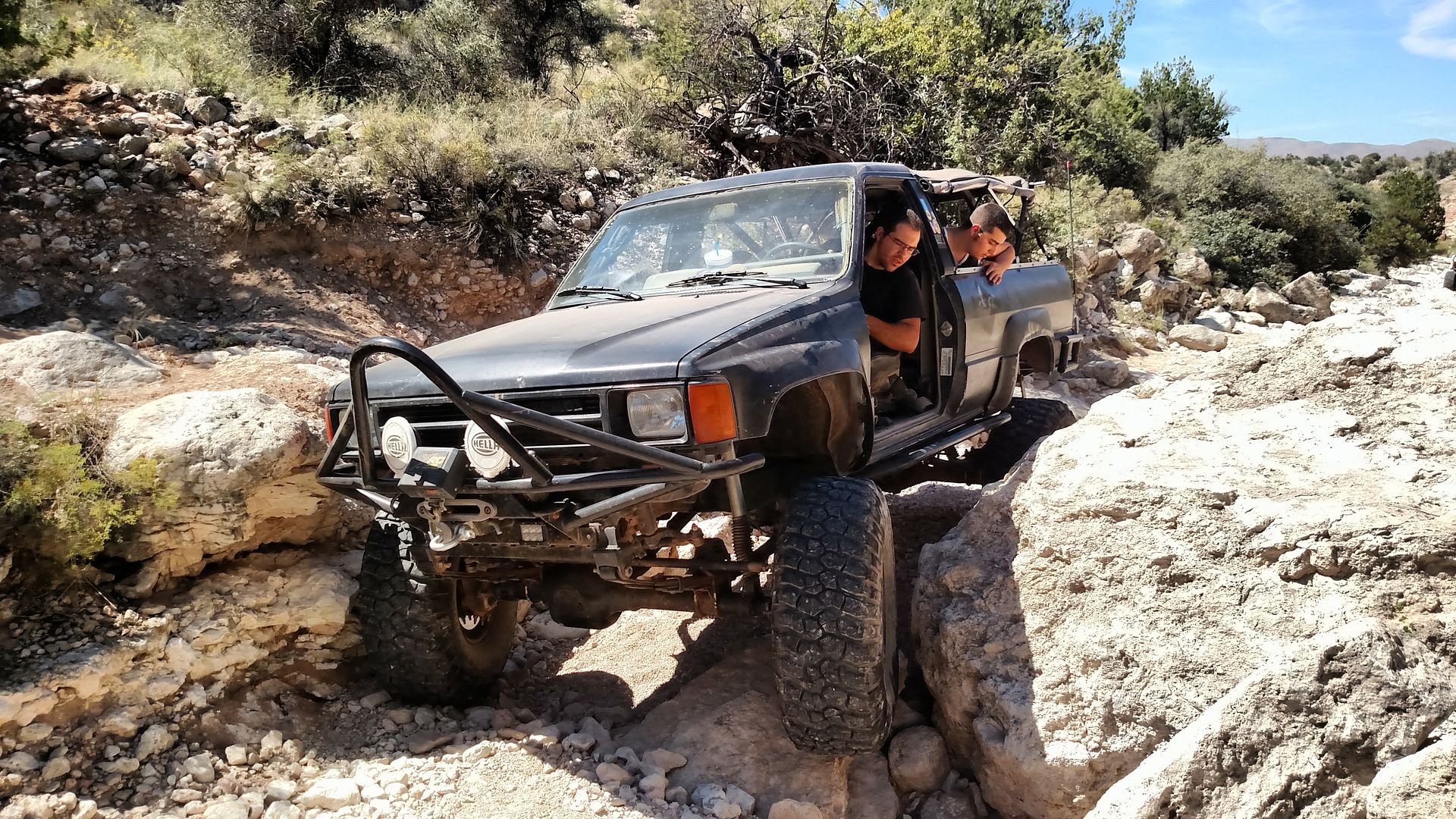 More careful driving
More tight squeezes
And then you continue to make your way trough the Canyon
Some additional notes/directions/coords
Head to Clarkdale AZ via US-89A. You will go through Old Town Cottonwood. Upon reaching a good sized "Tuzigoot national monument" that is brown, turn right (34.766477, -112.045738). Follow for about 1/4 mile to Sycamore Canyon road (34.768208, -112.038705). Follow that road for several miles until you get to a turn off of FR 258 where you will vere right (34.822287, -112.038060). Follow that for a short while, until you get to 34.816264, -112.019777 where there is a brown marker "9519" it is on your right. Turn down that, and follow for about 1/2 mile where you will come down to a dried up river and a sign that says "Smasher Canyon". The trail will take you back to FR 258