Next up Bumpers
www.exp-one.com/produc...ndra-2014/
I was looking for a clean look for the front. I didn't want bull bars to obstruct the grill since there is a plan for that. Expedition One has always made quality bumpers. The fit and finish are top notch. The instructions are clear and all the parts were there. The bumper is packaged in a full box with expended foam around everything, so it lessens the possibility of damage in shipment. The front is first, but the rear will be on its way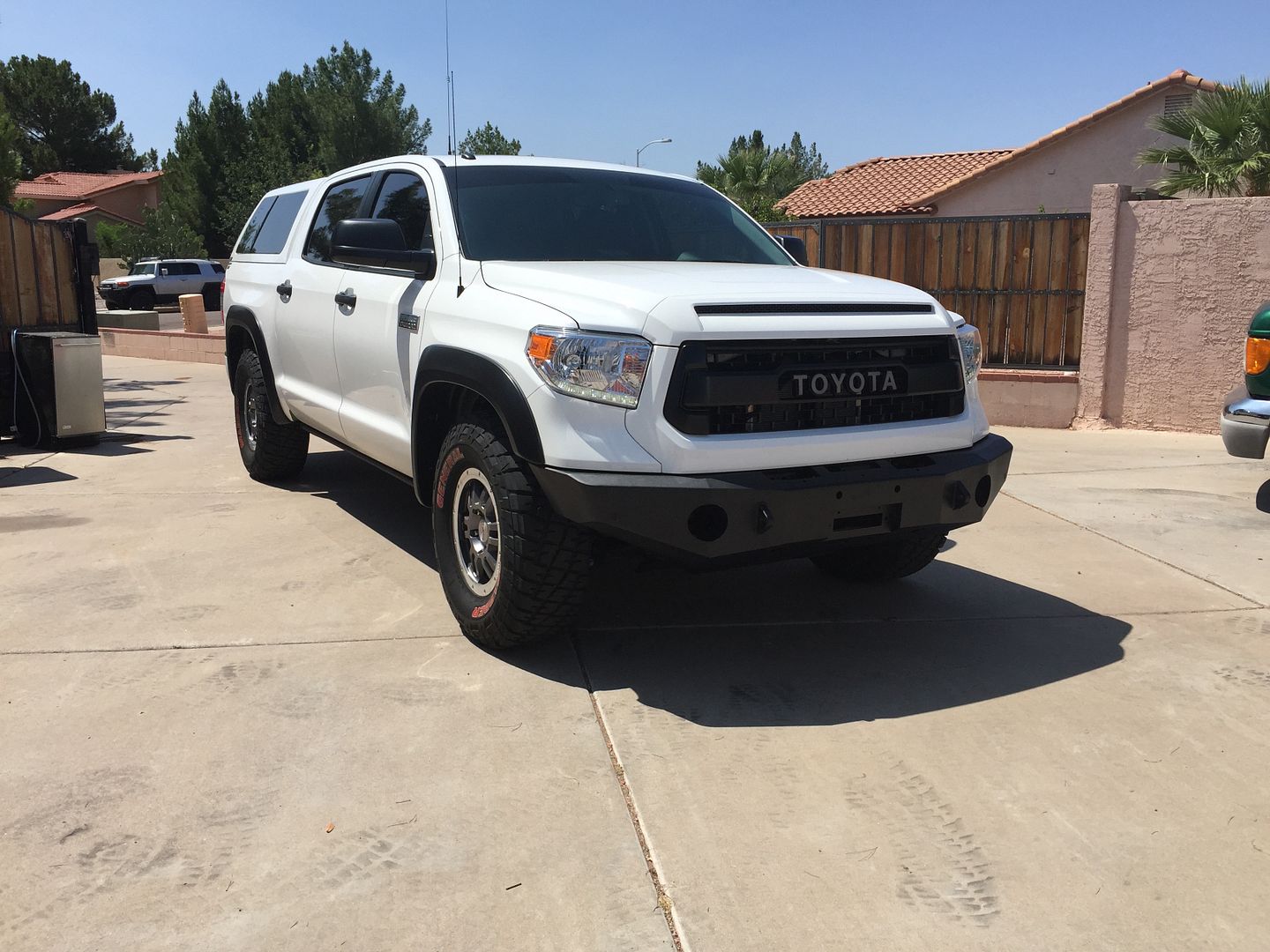 Communication
Kenwood 710-G Dual band with Aprs
Diamond HAB 770 With a 5" mag mount (temporarily)
The base is mounted under the drivers seat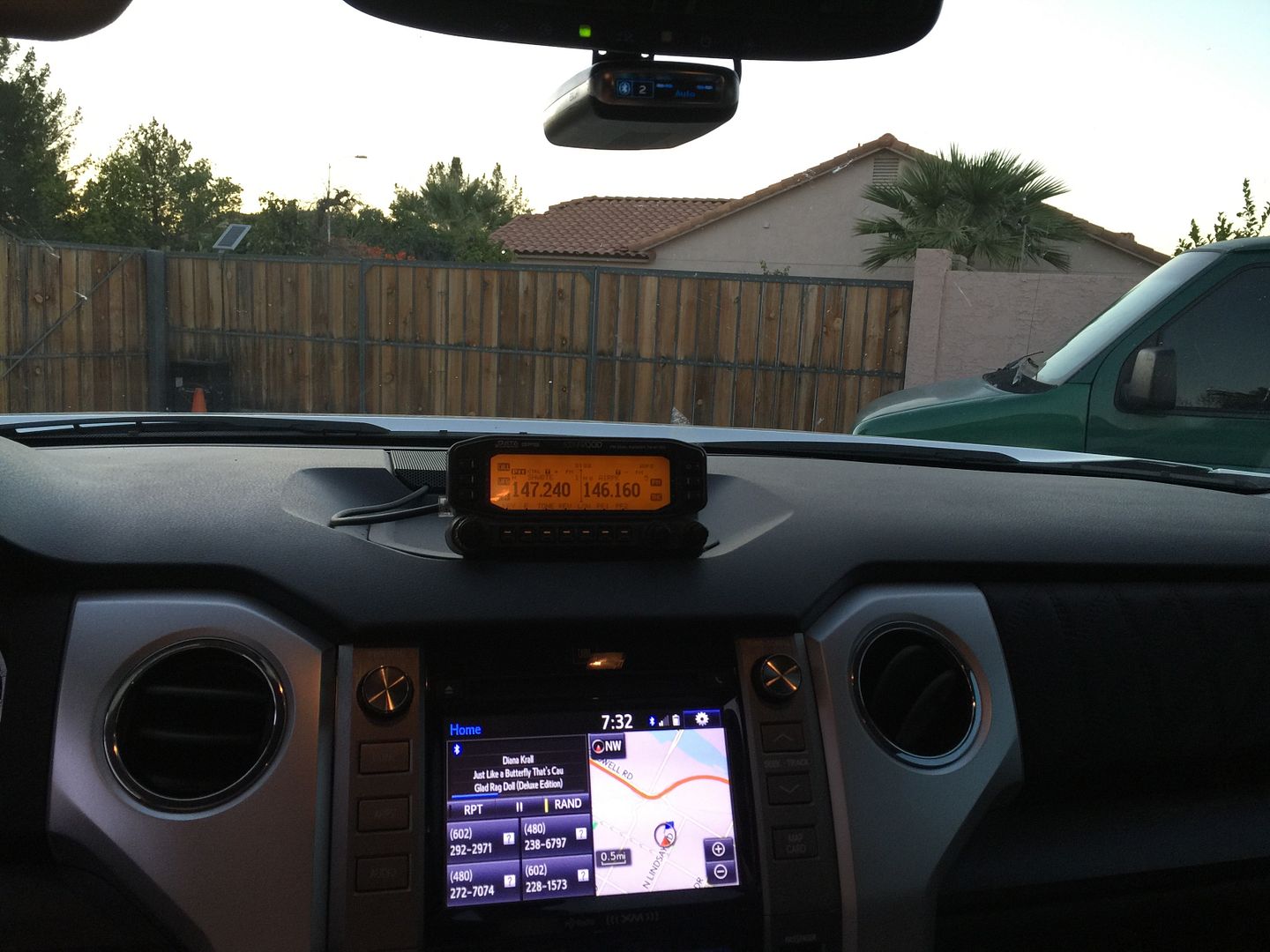 Next up Electrical plan
The fun part begins ...
Wiring the truck for lights and stuff
here is the plan so far
First shipment of lights on their way, I should have them tomorrow,07/28
All Baja Designs
Baja Designs | Off Road LED Light Bars And LED Lights
(6) Pro S2's 2150 lumens each, that will be mounted on each side of the roof rack (flood pattern)
(2) Squadron Pro's in (wide driving), for the front bumper 4.75 pockets
(2) Squadron sport lights , (wide cornering) for the new Expedition One rear bumper pockets, (on order)
(6) These will be rock lights. I may add a few more under, plus add something under the hood . Yet to be determined
After that the next round of lights will be shipped
Hood Scoop: Qty. (3) Amber 10" Stealth light bars. Two as Amber Wide Driving and one Amber Spot
Front Bumper: Qty. (3) XL auxiliary lights. Two Combo XL80's and one Spot XL Racer Edition, in the middle.
Rear Rack will be (1) S8 20" Amber Wide Driving
We are looking into a grill option, but that is yet to be determined
The next phase will be (6) XL racer editions for the roof, behind the sun roof, preferably on some sort of actuator . I believe these are listed at 9500 lumens each. With the correct combination of patterns, this will be almost total lighting coverage .
I did a chicken scratch doodle wiring diagram,(don't laugh), just to get the idea of where my wire runs were going and how many amps would be required, so I could size the wire correctly. With all the lights blazing at once, it would consume about 85 amps
That doesn't count frig, compressor, radios etc. Good thing I am running an Odyssey Dual battery
This will complete the lighting design. It was important to have the total configuration planned out, so all the wiring infrastructure could be ran at once. This will save sloppy add-ons, in the future. Even if I change lighting configurations, the wiring could essentially stay the same. Eventually, I will have a total lumen count, but whats more important is the lighting coverage. Working with Baja Designs and their expertise, will get to the goals I want to achieve .
How do I manage all of this?
I took some advice from someone that read one of my posts and contacted Switch-Pros
switch-pros.com/
After I read what this system will do, in a nice neat package, I decided this is what my Tundra Deserves
The only problem is , that 8 circuits will not be enough to control my massive system. I could actually almost fill up 2 of them. So I will be getting 2 systems. The details include being able to control everything from my I-phone, but having redundancy to able to switch it all manually . I should be able to control both systems at once, too.
I will do strobe and dimming on all circuits and will be able to switch on my compressor, frig and any other things I request it to. For the compressor, it will be a switch function, to a small relay that will trigger a 100 amp relay . I am currently working on a over the fender well platform for the dual battery, compressor , tank and Switch pro modules. It will be positioned, not to interfere with the Bedslide, which is 48.25" wide .
Oh yeah It's getting a Bedslide too . It will be the location I will mount the spare tire.(all the way forward) along with the Engel Refrigerator (all the way Back on the passenger side) If you notice I am mounting everything passenger side, to help balance out the weight, from adding the Transfer Flow Fuel tank
Dual battery is definitely in order.
National Luna Dual Battery Controller
nationalluna.com/intelsol.htm
Odyssey PC1500 Battery X (2)
www.odysseybatteries.c...1500rt.htm
Next order of business is rack is on its way, from Equipt .
www.equipt1.com/
They have a specific rack that can be mounted to the camper shell, but only be a few inches tall. Then I do all the roof rack wiring and light installation
Onboard Air
Extremeaire Magnum
www.extremeoutback.com...7-222.html
This is a bad boy air system. Yeah I know you can get a Powertank or any other Co2 set up, but I didn't want the string attached to have to fill it and store it. My system will be similar to how I set it up on my FJ Cruiser. Under the truck on a cross member I fabricate (the tire will be moved do to the size anyway)
Here is the write up I did on my FJ Cruiser for the install
www.fjcruiserforums.co...stall.html
Here is a picture of the somewhat finished project on the FJ
Next order of business is part of the on board air system
rocksmasher.com/2wayair
It will be a blessing to fill or deflate the tires from one spot. It really has many advantages . I will be taking a road trip to work out the details of the system and will also be an authorized dealer . This will be vehicle specific too, so there won't be any guess work and an easy installation
Lots too do, so little time to do it
The first set of lights have been installed
Baja Designs Squadron Pro Series
4350 lumens each 3.6 amps 5000 K color temp
I used the driving light circuit, clipped the stock plug and put a set of Delphi connectors to mate with the lights. The install was a little tedious, just trying to space the lights out correctly so they fit the holes cenetered . They are pretty close