Posted: Mon Aug 26, 2013 7:34 am


----




That works too doc. Just a nice classic family cruiser that holds a cooler runs well and gets you through the desert with AC.
---
#37: Re: The "I can quit at any time" build thread Author: gotmud,
Location: Gilbert
Posted: Mon Aug 26, 2013 2:08 pm


----




AZFJTOY wrote:

glideraz wrote:
Sounds like it will be a nice build.
Engines are fun to build for sure,I have built several over the years just remeber take your time,clean and measure everything and get tight tolerances. Try to get tolerances as close to eachother as possible.

I know you'll have fun building it


Capital letters, periods, commas...did someone hi-jack your account glider?

Me thinks Jen is proofreading for him.
---
#38: Re: The "I can quit at any time" build thread Author: conejo,
Location: Laveen
Posted: Tue Aug 27, 2013 7:52 am


----




Good times ahead!
---
#39: Re: The "I can quit at any time" build thread Author: Thoreau,
Location: NE Phoenix
Posted: Tue Aug 27, 2013 8:31 am


----




BellyDoc wrote:
I'm going to get a HAM license and BS with you guys on 2 meter.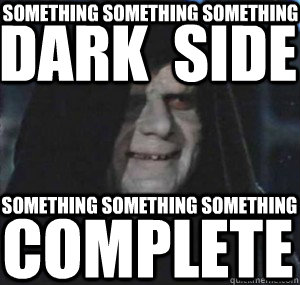 ---
#40: Re: The "I can quit at any time" build thread Author: Chigoe,
Location: Sunny Scottsdale
Posted: Wed Aug 28, 2013 6:10 pm


----


Some good reading...See you in two years Jon<<<<<<<<<clic
---
#41: Re: The "I can quit at any time" build thread Author: BellyDoc,
Posted: Thu Aug 29, 2013 7:42 pm


----


More bits for the shop: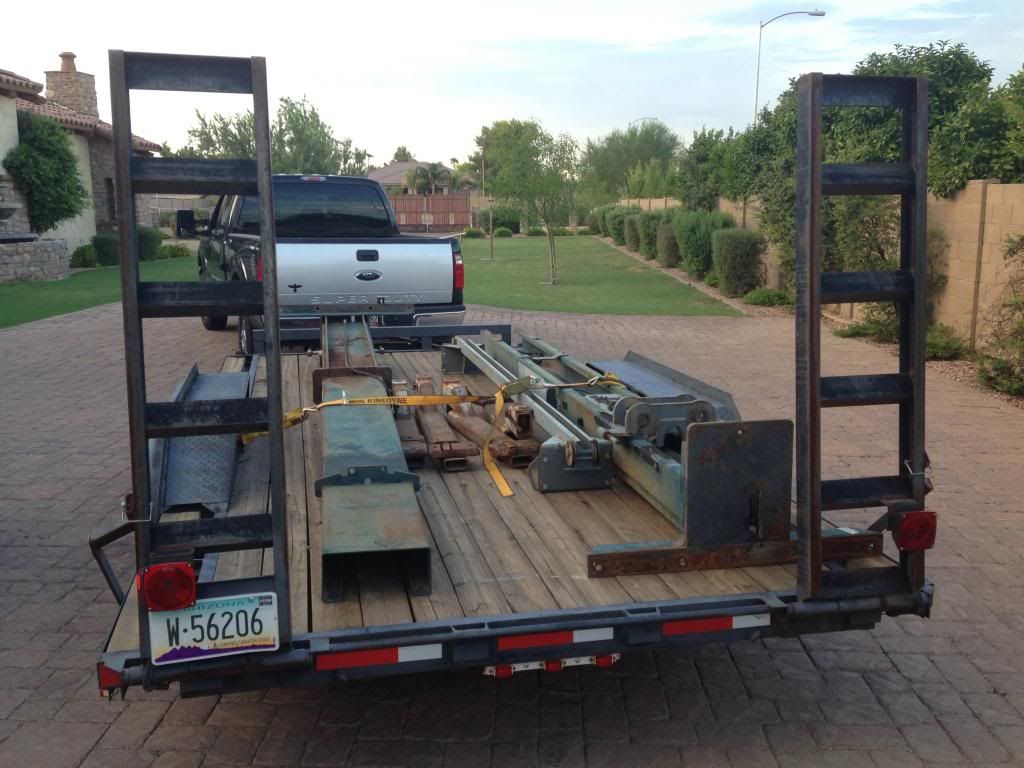 I got a screaming deal on this ridiculously overbuilt 9000 pound lift because it was sitting in a yard after a guy bought up all the hardware from a liquidated auto shop. He just wants some of the stuff, and he's trying to part the rest off so that the bits he keeps end up being free.

This is what you call a win/win... even after replacing the hydraulic module, I'm still going to come in well under $1000.
---
#42: Re: The "I can quit at any time" build thread Author: blue10,
Location: Mesa
Posted: Thu Aug 29, 2013 8:18 pm


----




Sweet. I'm going to have to buy a house close to yours.
---
#43: Re: The "I can quit at any time" build thread Author: BellyDoc,
Posted: Fri Sep 13, 2013 6:05 pm


----


I've gotten a half step closer.

I went and bought the metal to build my loft: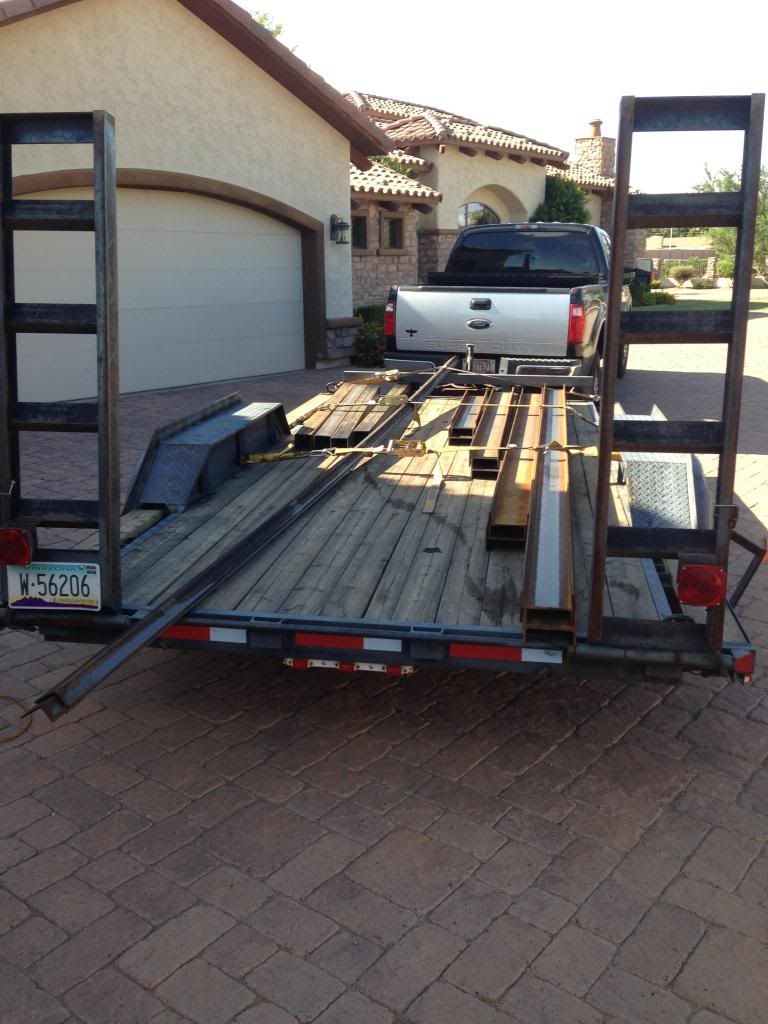 This required some head scratching. First I had to learn a bit about I-beams. It turns out I-beams have evolved over time and the "standard" type has been largely supplanted by the "wide flange" type. Standard I-beams are designated with an S while wide flange I beams are designated with a W. (go figure...)

The difference is in the cross section. The standard I beam is extruded, and its flanges on top and bottom taper toward the edge. The wide flange type is hot rolled after extrusion and has flat flanges, both on the inside and out.

The reason I had to learn about that is because it matters when you plug into one of the calculating routines that can be used to predict the amount of sag that happens when you load a beam with some weight.

It also matters in terms of the joinery methods. With more flat surfaces come more options. The flat surface of the wide flange type is better for bolted joints than the tapering surface of the older style standard beam. Of course, that wouldn't matter if I were to weld everything, but for reasons of assembly, there are advantages to a bolted joint.

It's all academic anyhow, though, since the wide flange beam is what's available.

I-beams are sized based on the height of the web (the upright part of the"I") and the weight per foot. I chose "W6x12", a 6" tall section which is 12 pounds per linear foot. The long beams are 15' 8", but I think I need to shave them down slightly. These will span crossways.

I estimated 3000 pounds for the total amount of stuff expected to be on the loft, based on the following total fantasy:

Furniture:

Desk - 80
Chair - 20
Couch - 100
Table - 50

fudge factor x 4

Total: 1000 pounds

People:

200 pounds each

pork factor x 5

Total: 1000 pounds


Miscellaneous:

No clue - so 1000 pounds.

Grand total:

3000 pounds.



According to the beam calculator, if I stacked all the furniture on the center of the widest spanning beam and there was nothing else to help support it, and then I stacked all the people, and all the miscellaneous stuff on top of the furniture, I would have a 3000 pound point load in the middle of a 15' 8" span of W6x12 I beam, and it would deflect .65 inches.

That sounds realistic to me.

Considering I don't want the deck any higher and I don't want the overhead clearance underneath any lower, I'm happy with that result.

So, today I'm cutting a few parts out of plate and angle. I've got some bolting cleats to drill, and then I'm going to start to try to build this thing.
---
#44: Re: The "I can quit at any time" build thread Author: BellyDoc,
Posted: Wed Oct 16, 2013 3:57 pm


----


Some updates on the build:

I've been getting a small chunk of time to work on the thing here and there. As usual, the amount that I learn after the project starts far exceeds the amount that I know beforehand.

The general plan has been to design a mezzanine loft using 4x4 3/16" wall square tube pillars at the four corners. This is to support a floor framed with 6" I beams and angle iron, which will then skinned over with wood 2-by material and OSB.

Problem number 1 came up as I had to decide whether to bolt or weld the thing together. I decided to bolt in order to allow for modification in the future, and also to keep the heat off the walls. The I beam rails will be right up against the drywall and I wouldn't be able to weld anything from the back.

Problem number 2 followed immediately. If I can't weld on the backsides of the I beams, then I surely can't apply a wrench there either. All the connectors that hold beams together up against the would have to be manageable from the facing side, only. Consequently, I had to design and build a set of connections that had welded parts on the backsides, with welded nuts for bolts. Only parts that came from the front would be boltable.

This had implications with regard to the order of assembly as well.

Here's what I came up with: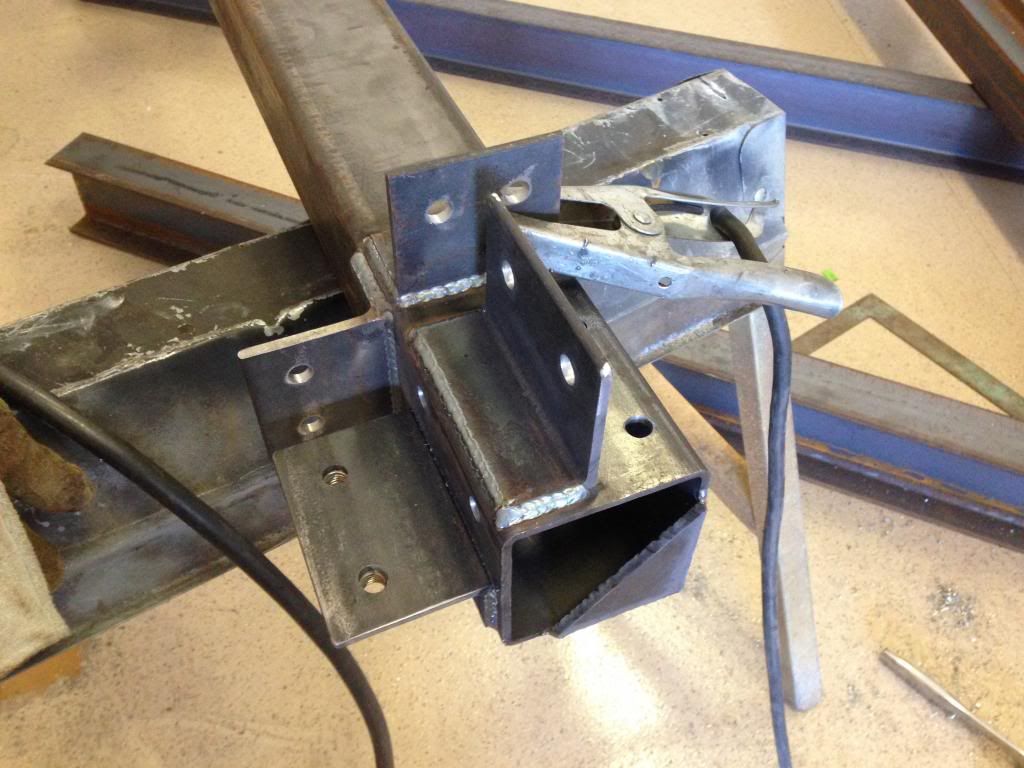 This is the top of one of the 4x4 pillars. It's 7.5' tall. All 4 are slightly different. There are two back-corner versions (a right and a left) and two front-corner versions as well. This is the front left.

Each pillar has a pair of supporting corbels made from 2x3 .250" wall angle iron that the the I beams rest on. The bottom flange of the I beam through-bolts with the corbel using half inch grade 8 bolts. The web of the I beam is then bolted between two cleats of .188" wall angle iron. One is welded to the pillar and the other bolts up. On top of the pillar is another triangular piece of plate which is just there to take a screw which will hold down the plywood. I didn't cover the pillar completely because I need to be able to get a nut and a wrench down the hole.

Here is the rear left pillar, right-side up: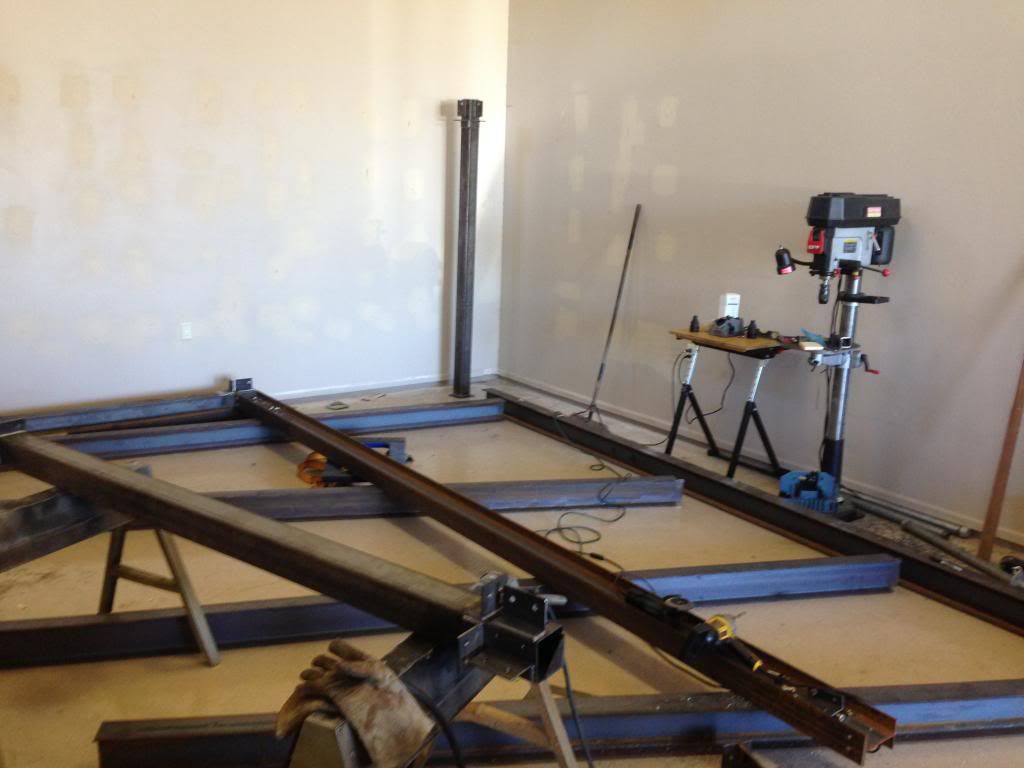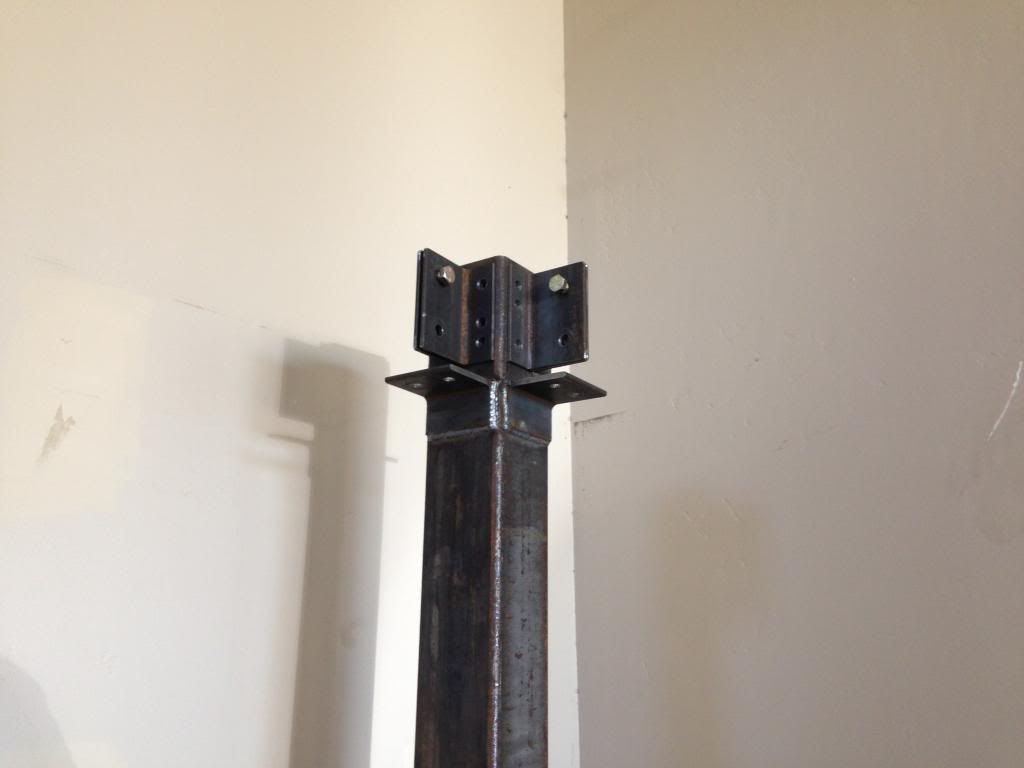 The rim of the structure all the way around is made from wide flange I-beam (also called "H" beam). The specific designation is W6x12#. W="wide flange", 6=inches in height, and the 12# is the weight per foot. W6x12 is 4" wide and has a web thickness of 0.230".

This is opposed to standard 6" I-beam which is designated S6x12#. Standard I-beams are mostly phased out, but the smaller stuff is still readily available. I decided to use it for the internal cross members because I was only going to be anchoring to the web.

Here are the two different kinds of I beam side by side: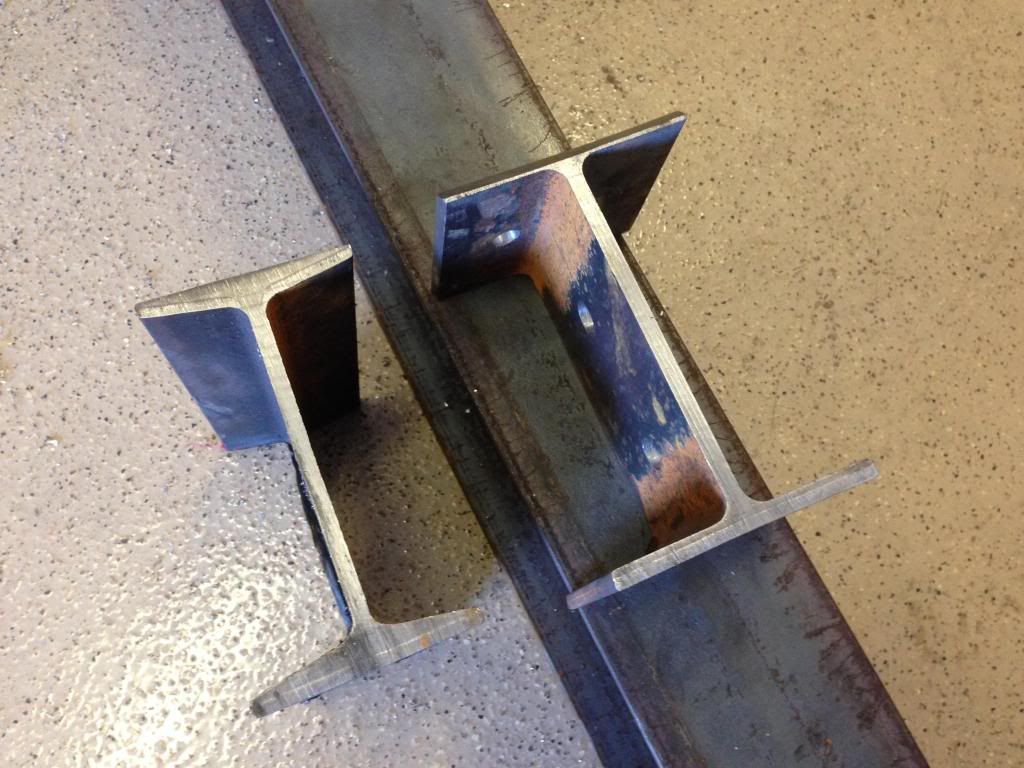 The one with tapered flanges is the standard type. It's an extruded and rolled product. The central webs are about the same, but you can see on the one kind, the flanges are tapered and shorter, and on the other, they're flatter and wider. The older "standard" type of I beam with tapered flanges is only 3.25" wide and still weighs 12 pounds per foot. The wide flange 12# version is 4" wide.

As you might imagine, the tapered flange is lousy to drill and bolt through, but either could be welded without a problem.

I used wide flange I beam around the edges, but the central cross members are standard type so that I can fit them thus: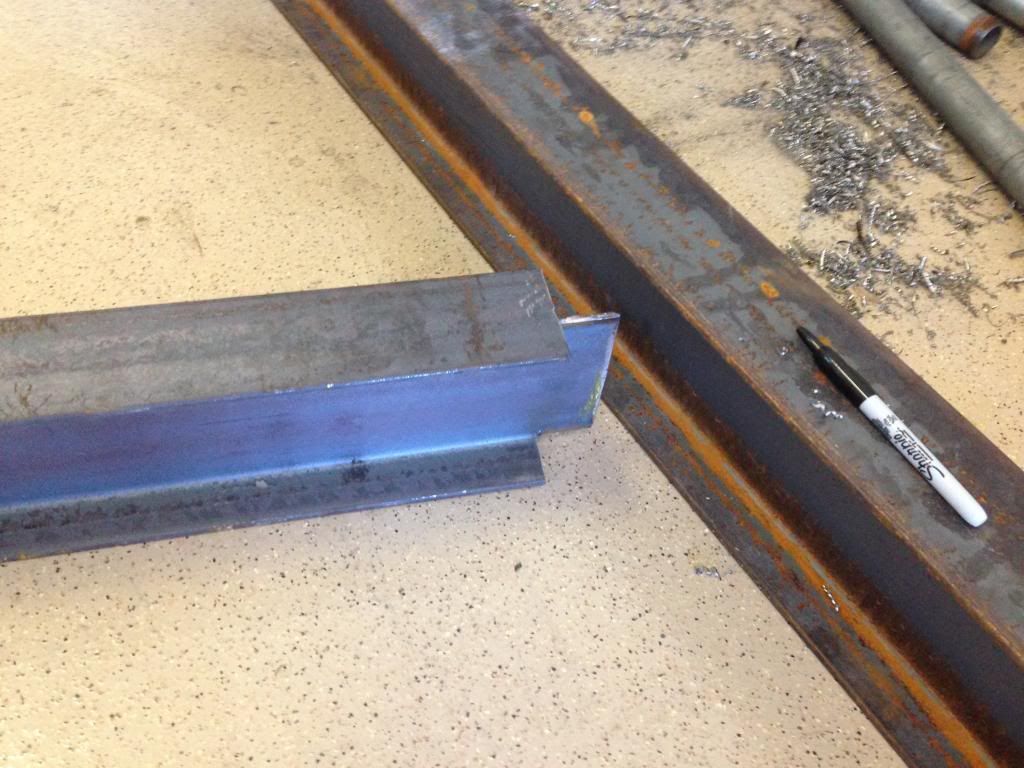 That's the part I'm doing today. I cut those beams to let the flange stick out. It will be sandwiched with two bolts, between angle iron cleats welded onto the other beam.

I should have all the I beam work done here today, and then I'll start cutting angle iron. There will be angle iron parts every 2 feet bridging between the I beams. The angle irons will support wood 2x4's or 2x6's, which will then support the OSB floor.
---
#45: Re: The "I can quit at any time" build thread Author: BellyDoc,
Posted: Thu Jan 30, 2014 12:58 pm


----


Last year ended with a boom. It's good for the bottom line, but it adversely impacted building efforts multiple times. Nevertheless, there's been progress.

All the beams are shaped. All the tabs and mounting points for connecting the beams together have been fabricated and are welded on.

All 4 pillars and the 4 12' beams have been rattle canned gray.

There are 18 angle iron cross members undergoing wire wheel and rattle can today

There are 2 16 foot I beams that I still need to knock the loose stuff off of with a wire wheel and then spray. That starts tonight and finishes tomorrow.

I expect to be assembling the framework starting this weekend.
---
---
---
All times are GMT - 7 Hours